What does Netflix's entry mean for other internet TV companies in India
So far Indian audiences have been able to watch only a handful of Netflix original content. That is now going to change with the US on-demand video streaming service entering India. But as Indian viewers lap it up, the bigger question is what does the entry of this internet TV network giant mean for the nascent over-the-top (OTT) market in India.
Netflix's entry comes at a time when the country has seen an explosion in the number of online video streaming sites or applications, from NexGTv to Hotstar, YuppTV, Spuul, Eros Now besides Hungama and Ditto TV.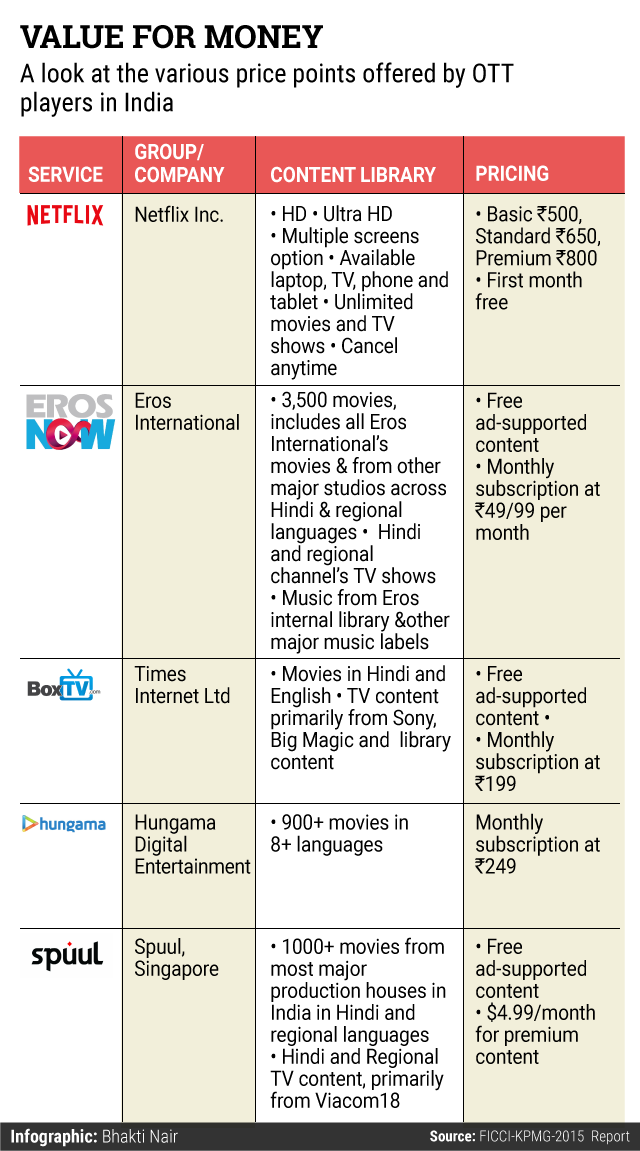 To be sure, OTT players aren't hitting the panic button as yet. As Jehil Thakkar, partner and head of media and entertainment at audit and consulting firm KPMG in India, says, the entry of Netflix in India is a validation to the digital content business in India. "Its launch in India shows that it is an important market. The market is so small in India currently that there is room for enough and more to come," he says.
According to Ficci KPMG report 2015, in July 2014, India had 59 million video viewers. On an average, 3.7 billion videos were viewed every month with viewers spending 414 minutes daily watching videos. Moreover, Indians spend 3 hours 18 minutes daily on their smartphones compared to 2 hours and 8 minutes on TV.
For broadcasters who run their own platforms, Netflix's entry would not have much impact. Uday Sodhi, EVP and head, digital business, Sony Pictures, which runs Sony Liv, says the entry of newer players will only help drive consumption of content.
Content, content everywhere Original content is an area where Netflix excels. Some of its acclaimed shows such as Orange Is The New Black, House of Cards, Jessica Jones, etc., are home productions. Right now Netflix is targeting the premium sector that is SEC A + and A, which is the English speaking market. "However this too will change soon as Netflix will enter the native language market, first through Bollywood content, and then its own local content," adds Thakkar.
To be sure, internet TV networks in India have shifted focus to creating original content. For instance, YuppTV launched its first original web series Brian Lara Is Not Out on November 6, 2015, featuring cricketer Brian Lara. Similarly, NexGTv operated by Digi Vive Services Pvt Ltd is preparing to launch original programmes.
Uday Reddy, founder and CEO, YuppTV, says that going ahead, the same content will be available on all platforms. "OTT platforms will have their own content as well as catch-up content just like in case of multi-brand retailers who have private labels," he explains.
The real fight will start once Netflix starts airing language content in India. "We're now working with local storytellers in Brazil, Cambodia, Canada, Colombia, France, Italy, Japan, Korea, Mexico, the UK and the United States and that list is only going to grow over time. We are making kids cartoons, teen dramas, sci-fi thrillers, adult comedies and historical epics. We are working in multiple languages," Ted Sarandos, chief content officer, Netflix had said at the launch conference.
Business deal Online video streaming networks in India follow different business models. A majority of the players follow a 'free-mium' model, with some content free and advertising bringing in the money, while a monthly subscription fee is levied for premium content.
Platforms such as Hotstar owned by Star India and Sony Liv owned by Sony Pictures Network Pvt Ltd respectively, are free to use and make money from advertising.
Star India is part of 21st Century Fox, the media house controlled by Rupert Murdoch. Murdoch also controls News Corp, the parent of this news website.
Netflix, on the other hand, earns its revenue only from subscription. It has followed the same strategy in India. At the launch conference, Sarandos admitted while the technology is there, it's the business models that now stand in the way.
And it surely does. Netflix's basic pack in India starts from Rs 500 a month, while its premium pack comes at Rs 800 a month. Compared to this, YuppTV charges consumers Rs 99 a month. Eros Now has a daily pass for Rs 10, while a weekly pass is available for Rs 30 and a weekend pass for Rs 20. The annual subscription is available for Rs 1,000.
As NexGTv's COO Abhesh Verma says, India is a price sensitive market. "A high pricing strategy never works here." says Verma. NexGTv runs subscription packs at Rs 349 for three months, Rs 699 – six and Rs 1199 – a year, respectively.
Media planners too say Netflix packs are a tad expensive. "With no plans to earn from advertising, Netflix will find very few takers at this price point. In India, Netflix will be active as a niche product," says Debraj Tripathy, managing director, MediaCom India, a media planning agency from the GroupM stable.
According to the latest data released by Internet and Mobile Association of India (IAMAI) digital advertising spend in India reached Rs 2,750 crore by the end of FY 2014, clocking a compound annual growth rate (CAGR) of 25 per cent year-on-year since 2011. Ad rates, however, remain very low with advertisers paying Rs 150-200 cost per impression and Re 1-2 per video in case of videos.
Netflix's pricing strategy actually pits it directly against direct-to-home players such as Tata Sky. In order to avail a basic pack on the DTH platform a consumer needs to pay Rs 500-600.
Also with a higher price, Netflix is looking at earning the kind of average revenue per user (ARPU) it earns in the US. In the US, ARPU for both cable TV and internet TV is $40-50 per month, while in India it is Rs 200-240 per month for cable TV industry.
Payments wall Payments is another area of concern. Netflix too seems to have made the same mistake as US-based taxi service Uber had made when it entered India, by bypassing the two-step credit card payment authentication process on its site. Right now, Netflix saves the customer's credit card details and debits the amount without asking for an OTP or an I-PIN.
In 2014, the Reserve Bank of India (RBI) mandated that electronic payments which do not involve a card swipe must be authenticated by an online banking PIN number or a one-time password which is sent to the user either through a text message or an e-mail. Uber finally had to bow down to RBI and introduce a two-step process that conforms to RBI guidelines.
Brand equity Star India, which launched Hotstar during the ICC World Cup last year, spent Rs 70-75 crore on advertising and marketing. Netflix, however, believes ensuring a more personalised experience via consumer behaviour analytics will do the trick. "The moment of truth will be when we will able to suggest the kind of TV shows to a viewer depending on her mood," said Reed Hastings, co-founder and CEO of Netflix.
This is one area that Netflix's rivals too are working on. According to Reddy of YuppTV, the user interface of the YuppTV app already provides suggestions on the kind of content which is being watched based on location. The company claims to be working on improving it further.
Distribution and carrier partner Tying up with handset manufacturers and telecom service providers is a natural move for Netflix. That Netflix is able to provide its content on fourth-generation (4G) connection has narrowed down the list of contenders to Reliance Jio and Airtel. However, the company in an email response said, "We would be unable to comment on private discussions with local partners. Any announcements will be shared with you."
Thakkar of KPMG says the biggest benefit will be the development of the eco-system in India. The entry of large players such as Netflix will help develop the market. "These players will be able to push the telecom service providers to better the infrastructure. So everyone will benefit for Netflix's entry," he added.
Comment(s)