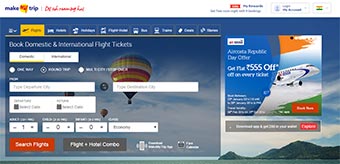 India's largest online travel agency MakeMyTrip Ltd has reported 3.5 per cent rise (9.7 per cent in constant currency) in net revenue for the three months ended December 31, 2015 to $36.3 million from $35.1 million recorded in corresponding year-ago quarter.
Growth was led by the NASDAQ-listed firm's hotels and packages business, which expanded by 12.3 per cent to $17.7 million, MakeMyTrip said in an earnings disclosure.
In the quarter gone by, MakeMyTrip was able to get more users to book hotels on its mobile site, said Deep Kalra, the company's group CEO.
Transactions for hotels and packages increased by 148.2 per cent on a year-on-year basis while standalone hotel bookings rose by 326.3 per cent.
On the air-ticketing front, sales decreased by 6.3 per cent (0.1 per cent in constant currency) to $17 million. Other businesses grew by 33.3 cent to $1.6 million primarily due to an increase in facilitation fees on travel insurance.
Net loss for the quarter increased five-fold to $19.5 million from $3.66 million in the December 2014 quarter. MakeMytrip has been reporting net loss for 13 consecutive quarters. For the quarter ended September 30, 2015, the online travel agency reported a net loss of $12.2 million.
Guidance
For fiscal 2016, the company has lowered its constant currency revenue growth guidance to 10-12 per cent from the earlier band of 10-15 per cent. However, MakeMyTrip has upped its transaction guidance.
MakeMyTrip expects India standalone transactions to grow in the range of 325-375 per cent as compared to its earlier guidance of 175-200 per cent.
"In Q4, we would leverage our strong balance sheet to significantly accelerate marketing investments in the India standalone hotels category to drive further online penetration while leveraging the growing population of smartphone users to grow our market share in this segment," the company said.
MakeMyTrip recently signed an agreement with fellow NASDAQ-listed firm Ctrip.com International Ltd where the Chinese travel services firm will invest $180 million (Rs 1,200 crore) through convertible bonds in the Indian company.
---