Is this the end of the road for GoJavas?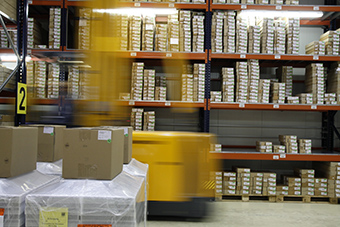 Logistics company GoJavas is possibly staring at a shutdown after losing its two biggest clients following fashion e-tailer Myntra's acquisition of rival Jabong and online marketplace Snapdeal's focus on its in-house delivery arm even as a shareholding probe made matters worse.
GoJavas, operated by QuickDel Logistics Pvt. Ltd, has already suspended operations due to what it calls technical reasons and is also seeing top-level exits with chief financial officer Ritu Madan quitting barely three months after joining the company.
The developments come amid reports the logistics firm's talks with Jasper Infotech Pvt. Ltd, which runs Snapdeal and controls a large stake in GoJavas, had stalled.

Two people aware of the developments at GoJavas told TechCircle the company stopped its services on 2 August and may now be close to shutting down.
"A Delhi-based logistics firm is in talks with GoJavas to acquire its Express service," said one of the people, who requested anonymity.
However, GoJavas said in a statement that it is rolling out a new operational model and has encountered an IT issue which has hampered the smooth rollout of the new model. It didn't specify what that model is, but recent media reports have said the company may move to a franchisee model.

Separately, a spokesperson for GoJavas confirmed that Madan had quit. "The CFO has decided to move on for personal reasons," the spokesperson said.
Madan, an XLRI alumnus and former director of finance at Zara India, joined GoJavas as CFO in April when the company went through a top-deck reshuffle after the sudden departure of COO Vijay Ghadge. She declined to comment on her resignation.
GoJavas, founded in 2013, was originally an in-house delivery venture of Jabong but was later spun out as a separate third-party logistics firm.

According to a report by The Economic times, Snapdeal and Jabong accounted for almost 85% of shipments for GoJavas. But Snapdeal is now focusing on its in-house logistics arm Vulcan Express Pvt. Ltd. Flipkart, the Myntra parent, also has an in-house logistics arm called e-Kart. This has resulted in a sharp decline in shipments for GoJavas.
The second person cited above, who works in the logistics department of GoJavas and spoke on the condition of anonymity, said the company would get 25,000-30,000 orders from Jabong and about 20,000-25,000 orders from Snapdeal a month and has now lost more than half the shipment volumes.
The person added that the logistics service provider would get as many as 1.5 lakh orders a month at its peak. "The orders had already fallen to 80,000-90,000 a few months ago. The number fell further with Snapdeal and Jabong moving out of the picture," he said.

Shareholding probe
Snapdeal had first invested in GoJavas, which was previously a part of Jabong, In March last year. It had not disclosed the investment amount, which was reported to be around Rs 120 crore, but had said it had picked up a minority stake in the logistics firm. Later in the year, it invested $20 million (Rs 131 crore then) more in the logistics firm.
A spokesperson for Snapdeal didn't comment specifically on GoJavas but said the e-commerce company works with multiple logistics partners for its fulfilment requirements and that a large part of its shipments are handled by Vulcan Express.

Last month, Snapdeal hired former GoJavas COO Vijay Ghadge as the COO of Vulcan Express, and five-six others who had left GoJavas with Ghadge.
Also last month, reports surfaced that Jabong co-founder Praveen Sinha made personal gains out of GoJavas. The reports came at a time when Snapdeal was said to be in talks to completely acquire GoJavas. The deal hasn't materialised thus far.
Online media platform The Ken on 16 July first reported about a forensic audit conducted by accounting firm PricewaterhouseCoopers that allegedly found several counts of corporate governance violations by former top executives of Jabong including Sinha.

The audit was commissioned by Rocket Internet, which had incubated Jabong. According to The Ken, the major finding in the report revolved around the transfer of GoJavas to an entity controlled by Sinha, who later sold the shares to Snapdeal. Sinha allegedly owned about 50% stake in GoJavas before selling its shares to Snapdeal. Sinha has denied the allegations.
Like this report? Sign up for our daily newsletter to get our top reports.
---