Their corporate babies may have scaled the milestone of $1 billion valuation but founders of most tech 'unicorns' in India are modestly paid folks. However, thanks to some generous stock options, a few founders have made it to the list of the highest-paid executives in the country.
TechCircle pieced together information from the balance sheets of tech unicorns in India, besides looking at the universe of all publicly listed firms in the country and a few other private firms that are known to be big pay masters.
Kunal Bahl and Rohit Bansal, co-founders of e-commerce marketplace Snapdeal, each got Rs 46.5 crore in total executive compensation in the year ended on 31 March 2015, pitchforking them to become the joint seventh-highest paid executives in the country.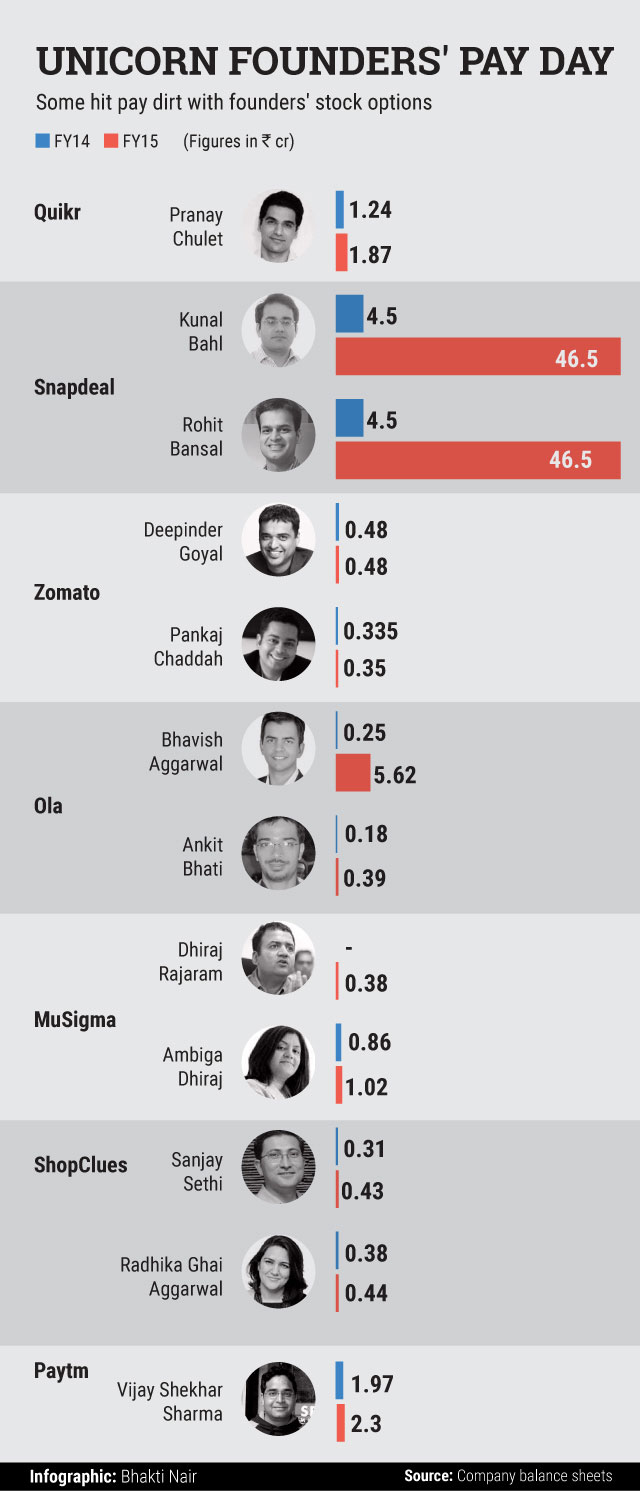 To be fair, the Snapdeal co-founders' pay packet was bumped up due to stock options that comprised some Rs 45 crore of the total for each of them.
Promoters of large mature firms typically do not opt for stock options even if they take an executive role in their firms. In fact, some take nominal cash salaries. But some startups include such options for founders as part of the compensation mix. Ola's Bhavish Aggarwal, too, saw a large part of his remuneration for FY15 come through stock options.
The unicorns did not respond to separate emails on their management compensation.
Kris Lakshmikanth, chairman and managing director of Head Hunters India, says in most venture-funded startups, the founders hold very little equity.
"Hence, many founders opt for moderate cost-to-company (CTC) compensation but top it with stock options. In general, the founders take less CTC than some of their leadership team executives. This is true across companies, across industries," he said.
The Snapdeal founders' total pay packet was only surpassed by those of Tech Mahindra managing director and CEO CP Gurnani and vice chairman Vineet Nayyar, Bharti Infratel's executive chairman Akhil Gupta, Sun TV's husband-wife duo Kalanithi (chairman) and Kavery Maran (executive director) during 2014-15.
Media giant Bennett, Coleman & Co Ltd's (BCCL) managing director Vineet Jain, a co-promoter of the firm that runs several newspapers as well as TV channels and online properties, received Rs 90.9 crore in the year ended on 31 March 2015. This made him the third-highest paid executive in India in total compensation that year behind the Tech Mahindra duo.
But much of Jain's pay packet was in cash, making him arguably the highest-paid corporate executive in India excluding stock options.
BCCL also runs a realty portal Magicbricks, which competes with PropTiger. News Corp, the parent of this news website, owns a significant stake in PropTiger.
Meanwhile, even as Tech Mahindra gave standout compensation to its top executives for two years running, the Snapdeal co-founders each received more than what CEOs of India's top three IT services companies got put together in the year through March 2015.
The CEOs of Infosys, Wipro and Tata Consultancy Services had received Rs 35 crore in total compensation in 2014-15.
Compensation figures for Flipkart founders Sachin Bansal and Binny Bansal (not related) and those of InMobi could not be collated as their remuneration is believed to be tied to international holding companies.
Sachin Bansal, who stepped down as the CEO of Flipkart early this year, giving the baton to Binny, was paid a nominal sum from one of the two key Indian operating companies of the group. Flipkart Pvt. Ltd, the holding company of India's top e-commerce firm, is incorporated in Singapore.
Also read: Tech Mahindra's Vineet Nayyar pockets record $29 mn pay packet
Crore-plus salary earners shrink at Wipro, Infosys; CEOs get fat hikes
Meet India's highest paid executives
Like this report? Sign up for our daily newsletter to get our top reports.
---