Series A investments worst hit as funding slows down

The year 2016, so far, has rained miseries on startups at various stages of their life-cycle. Shutdowns, mergers, acquisitions have become the norm while funding, especially at early stages, has slowed significantly in comparison with 2015, thus, compounding the woes of startup founders.
Data collated by VCCEdge, the information and research platform of VCCircle, show that the fund crunch, especially for early stage startups, has continued well into the seventh month of 2016.
Among the worst hit so far is Series 'A' segment in which the total number of deals came down to 82 in comparison with 168 deals that happened between January and July 2015. Likewise, the total amount of funds deployed also slid from $622.73 million to $260.38 million in the stipulated period.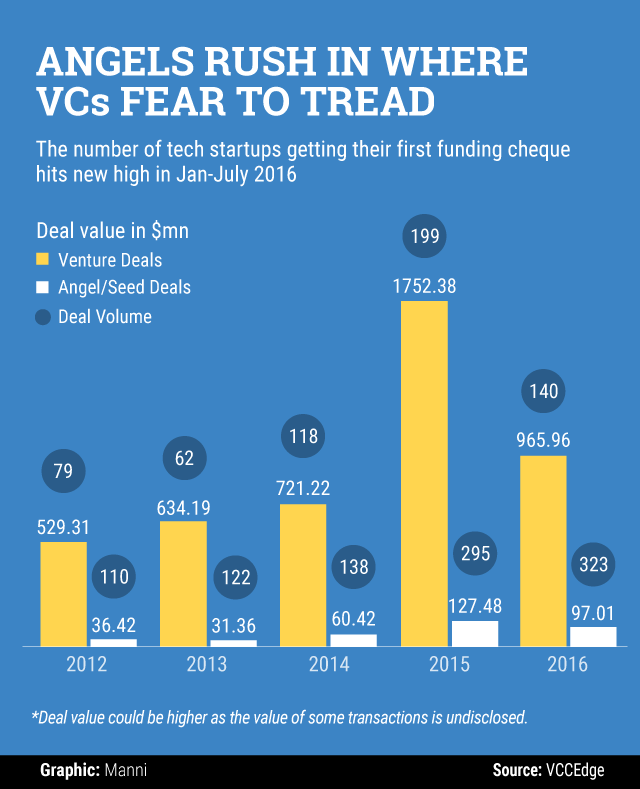 In fact, the entire venture investment segment has shown a significant decline this year. The total number of investments made by venture capital investors has come down in the first seven months of 2016 to 214 from 340 in 2015.
Likewise, the total value of VC investment has shrunk to $1.3 billion this year so far from $3.4 billion in the same period of 2015.
Technology sector, however, has been an exception riding the upbeat entrepreneurial environment in the country. The number of angel and seed deals in the technology space, for instance, grew by 9.5% in the January-July period this year to 323 from 295 in the same period last year. Angel and seed investments in non-tech space has been almost flat with around 100 startups getting initial funding support in the same period, underlining the confidence in the technology space.

"Technology is the flavour of the season so we are seeing investments growing in this space," said Mohan Kumar, executive director of Norwest Venture Partners, a venture and growth equity investment firm.
Startups that have gained some heft and have some funds to keep running till their next round of funding happens, are still able to stay afloat. Those at the early stage of their lifecycle, however, are wilting because of the fund drought.
In the Delhi edition of the Techcircle Startup event being organized today at Gurgaon, the participants from the industry will ponder over the reasons for the sudden dearth in early stage investments especially at the Series A stage.

Is the funding drying because there aren't enough smart ideas to invest in or is the quality of team behind startups is not good enough to be backed? These and other issues inflicting the early stage startups will be discussed among a group of leading investors and entrepreneurs. For answers stay tuned.
Like this report? Sign up for our daily newsletter to get our top reports.
---