WhatsApp to share user data with Facebook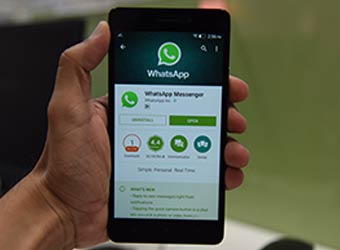 Popular messaging app WhatsApp Inc. has decided to share some data of its users with its parent, the social networking site Facebook Inc., in a move that may stoke privacy concerns.
The decision to update WhatsApp's privacy policy for the first time in four years is part of plans to test ways for people to communicate with businesses, the company said in a blog post.
"Whether it's hearing from your bank about a potentially fraudulent transaction, or getting notified by an airline about a delayed flight, many of us get this information elsewhere, including in text messages and phone calls. We want to test these features in the next several months, but need to update our terms and privacy policy to do so," it said.

The company sought to address privacy concerns and said that its decision to encrypt the messages that users send means no one, not even the company itself, can read them. It also said that it won't share users' WhatsApp number with others, including on Facebook, and won't give users' phone number to advertisers.
"But by coordinating more with Facebook, we'll be able to do things like track basic metrics about how often people use our services and better fight spam on WhatsApp," the company said.
The new terms will also allow Facebook to suggest friends based on the people the user interacts with on the app. "For example, you might see an ad from a company you already work with, rather than one from someone you've never heard of," the post said.

Facebook bought WhatsApp for $19 billion, its biggest buyout, in February 2014. WhatsApp is Facebook's second most-used app after its main social networking app, which has 1.44 billion mobile monthly users.
WhatsApp, founded by Yahoo veterans Brian Acton and Jan Koum in 2009, has announced several changes in recent months to attract more users. In June, it launched its web platform to allow users to use the messaging app from a personal computer. In January, it decided to drop its annual subscription fee.
In India, WhatsApp faces competition from Kavin Bharti Mittal's Hike, which raised $175 million (Rs 1,170 crore) from China's Tencent Holdings Ltd, Taiwan's Foxconn Technology Group and other investors this month. Viber, Line and Tencent's WeChat are the other messaging apps that compete with WhatsApp.

Like this report? Sign up for our daily newsletter to get our top reports.
---