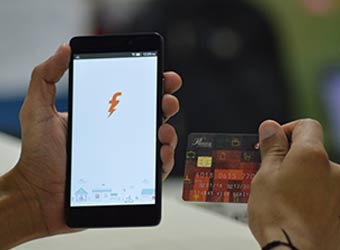 Snapdeal, India's third-largest e-commerce venture is in talks with Chinese Internet giant Tencent to raise more than $150 million for its digital payments platform FreeCharge, a person close to the development told VCCircle.
"Tencent and FreeCharge have had intense discussions over the past two weeks and the talks are in advanced stages," the person said on the condition of anonymity.
The fresh funding will value Accelyst Solutions Pvt. Ltd, the firm behind FreeCharge, a little above $1 billion, the person said. This would mean Tencent is picking up a 10-15% stake in the firm.
Snapdeal has been looking to monetise its investment in FreeCharge after it acquired the digital payments company last year to build a larger play on mobile commerce.
On August 8, VCCircle reported that Snapdeal had been in discussions with potential investors including Foxconn for raising $300 million by selling a stake in FreeCharge and that the Taiwanese contract electronics manufacturer could end up buying as much as a 26% stake in the payments arm.
Foxconn is already an investor in Snapdeal and had come in when the e-tailer raised $500 million in a round that also involved Chinese e-commerce giant Alibaba Group and Japan's SoftBank Group Corp.
Another person familiar with the development said that talks with Foxconn are still on and that it could be a co-investor in the deal.
Tencent and Foxconn recently co-invested in messaging app Hike when they jointly led a $175 million round.
Snapdeal, run by Jasper Infotech Pvt. Ltd, did not respond to email queries sent by VCCircle in this regard. Email queries to Tencent and Foxconn didn't receive any response till the time of writing this article.
FreeCharge allows users to pay their mobile, DTH and other utility bills across most major operators. Snapdeal hadn't disclosed the amount it paid to acquire FreeCharge but it was reported to be around $400-450 million. This means FreeCharge's asking valuation has more than doubled over the past year and a half. Snapdeal itself was valued around $6.5-7 billion when it raised $200 million from Canada-based Ontario Teachers' Pension Plan and other investors in February.
Snapdeal's plan to raise funds for FreeCharge was reported by The Economic Times last October.
Paytm and Alibaba vs FreeCharge and Tencent
Snapdeal and Tencent's discussions come close on the heels of India's largest online payments firm Paytm—backed by another Chinese Internet giant Alibaba—raising $60 million from a fund under MediaTek Inc, in what is believed to be part of a larger $300 million (over Rs 2,000 crore) fresh funding round.
According to the first person cited earlier, the investment in FreeCharge could be part of Tencent's strategy to counter Alipay-Paytm alliance and expand its play in the rapidly growing consumer Internet market in India.
"It (the funding) comes as no surprise as Alibaba (with Alipay) and Tencent (with WePay) are fierce competitors in China. With Alipay aligned with Paytm, Tencent is trying to woo FreeCharge, which is Paytm's closest rival in India after MobiKwik," the person said.
Also, Tencent has a big cache of digital goods business. "If it were to replicate the same in India, it will need a digital payments business that has millions of users already transacting," the person said.
People familiar with Snapdeal's strategy had previously said that a stake sale in FreeCharge is part of a new online-to-offline plan that will enable the payments company to target consumers in physical retail stores. The strategy is similar to the approach taken by Paytm, which is building a comprehensive ecosystem of goods and services on the lines of its key shareholder Alibaba, and MobiKwik.
The proposed deal would mean a big valuation bump for FreeCharge at a time when internet firms at large have been under pressure as funding activity slowed down. But, this has hardly affected investor interest in India's digital payments sector.
Paytm, which also has an e-commerce marketplace but largely derives its heft from its mobile wallet business, recently raised fresh funding at twice the valuation at which it mobilised capital last November. MobiKwik has raised $90 million in two rounds. After raising $50 million from Japan's GMO, Taiwan's MediaTek and existing investors in May, it raised $40 million last week from South Africa's Net1.
Rohan Agrawal, senior consultant at RedSeer Consulting, said that India's digital payments segment has seen 600 million transactions in 2015-16 with the average transaction value rising to Rs 400-450 thanks to integration with e-tailers and increased willingness to pay online for utilities and air tickets.
Like this report? Sign up for our daily newsletter to get our top reports.
---