Google Allo launched; can it beat WhatsApp, iMessage?

The much awaited Goggle Allo has finally been launched. Giving stiff competition to its existing competitors – WhatsApp, iMessenger and Facebook Messenger, what differentiates Allo is its 'smart' abilities.
Google Allo promises to make your life smarter and simpler with features that stand out. It can not only reply to messages on your behalf, but the inbuilt assistant '@google' will also search the Internet, offer suggestions and play videos for you.
Allo is Google's second chat application after Duo that offers video calls. The test version of Allo that was released a few weeks ago, created a stir with its absolutely new interface and features.

The app will be available for both Android and Apple users works on a machine learning software that helps it to learn how its users talk and communicate in order to generate enhanced and appropriate responses over time.
Users can also call upon a virtual assistant to navigate, provide information regarding flights, restaurants, weather and news.
The five best Allo features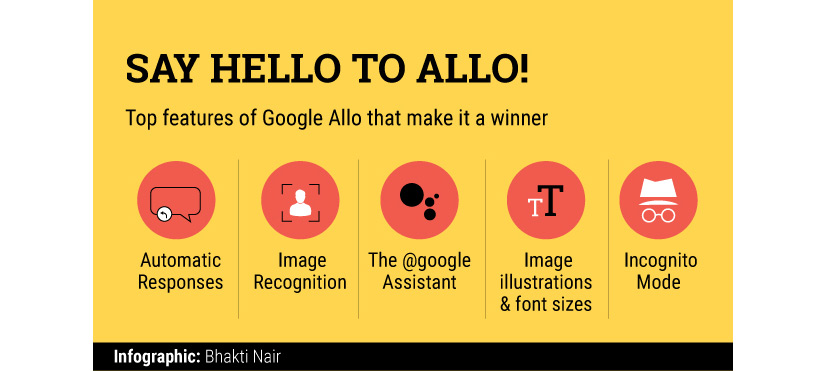 1. Automatic Responses
The app can suggest automatic replies to save users time when they're on the move.

2. Image Recognition
Allo also draws on Google's image recognition software for Smart Reply, meaning that it can spot the difference between a cat and baby and suggest responses.
3. The @google Assistant

Google's virtual assistant can pull information from the internet, embed YouTube videos within a chat and provide up-to-the-minute information.
4. Image illustrations and font sizes
Google's Allo also contains some of the playful features of Apple's new iMessage and Facebook's Messenger, such as the ability to scribble on pictures, send larger and smaller versions of text messages, and custom-designed stickers.

5. Incognito Mode
The chats are encrypted in Allo, just like WhatsApp, so you don't have to worry about privacy. When you chat in Incognito mode, messages have end-to-end encryption and additional privacy features like discreet notifications and message expiration.
Will it work?

Allo is not Google's first attempt at messaging apps. Allo is designed targeting the social audience, unlike Google hangout, which runs through Gmail accounts and usually used for professional purposes.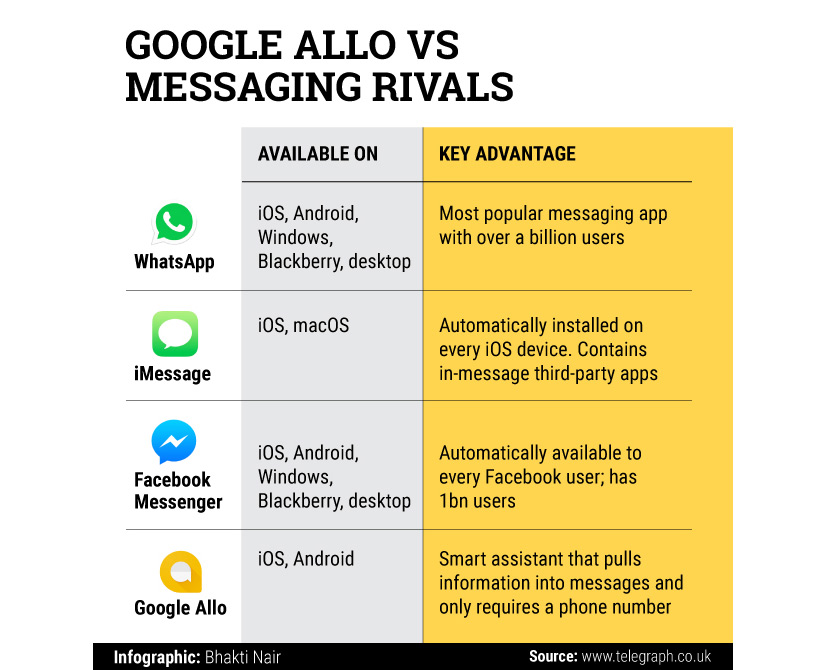 With features like the smart assistant, Allo will surely give a tough competition to the existing players. However, the big question is how many people will actually download the app? With iMessage having a clear advantage among all iPhone users and Facebook messenger and WhatsApp, both with more than one billion users, will Google Allo be able to crack the market and its make way?
Like this report? Sign up for our daily newsletter to get our top reports.
---