Dheeraj Jain, managing partner at London-based investment firm Redcliffe Capital, is set to launch a $50 million early-stage fund to invest in technology startups in India and overseas.
Christened 'Redcliffe Capital Early Stage Fund 1', it will focus on Series A investments in areas such as artificial intelligence, Internet of things (IoT), virtual reality, big data analytics, healthcare and biotechnology, Jain told TechCircle.
"We will look to back startups in India, Singapore, London, San Francisco, Helsinki but our primary motive will be to support Indian entrepreneurs," he said. The fund will be launched in early 2017 and will typically invest $500,000 to $1 million in a startup, he added.
Jain knows a thing or two about startup investing. A prolific angel investor, he has put money in about a dozen companies in 2016 alone. So far, he has made one full exit and two partial exits, making almost 10 times returns.
He started angel investing after relocating from London in 2014 and now has a portfolio of 20 companies in India. Some of his portfolio companies include Mappr, Burger Singh, Qdesq, JustRide, Deyor Camps and Yumlane.
Last month, Jain backed Delhi-based online wedding planner Shaadisaga. Jain said his investment philosophy is fairly simple – look for disruptive technology and the right team.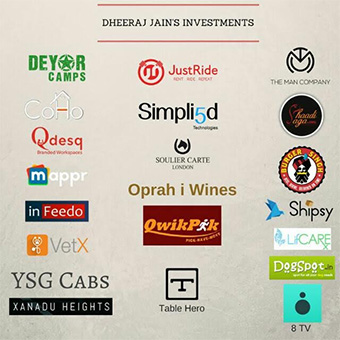 Jain said he intends to invest in at least three more startups before launching the investment fund. He will also make two more partial exits by the end of this year.
"I am very excited about technology, anything which uses technology to solve problems and has technology built into that," he said. "We also like to back founders who have a lot of experience or founders who are young and bring a fresh perspective to the business."
Jain joins a number of early-stage investors in floating a new fund to back startups in India, although the funding environment has cooled this year. Startups, in general, are facing it tougher to raise Series A funding as investors turn cautious and focus on profitability instead of quick expansion fueled by high cash burn.
Venture capital fund Ideaspring Capital, the founders of startup accelerator Z Nation Lab and industry doyen Ratan Tata are among those who have floated or are planning to launch funds for early-stage ventures.
Ideaspring was started in April by angel investors Naganand Doraswamy and Prashant Deshpande along with Arihant and Amit Patni. The fund will invest up to $450,000 in early-stage tech startups, besides participating in pre-Series A/Series A funding rounds where it will pump in up to $750,000 as a co-investor.
Zsolt Capital, a seed-stage venture capital fund launched by the founders of Z Nation Lab, plans to raise up to $15 million to back technology firms.
RNT Associates, the privately held investment firm of Tata Sons chairman emeritus Ratan Tata, has tied up with the University of California to jointly fund startups and early-stage enterprises in India.
Like this report? Sign up for our daily newsletter to get our top reports.
---