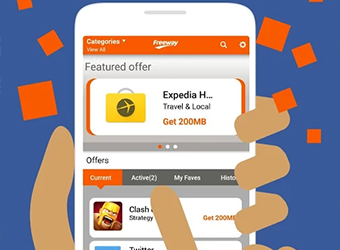 US-based mobile app developer Syntonic has launched its data cash-back and promotion app, Freeway in India.
Freeway will allow users to access apps without using their mobile data. The app is available on Google Play Store.
Freeway has partnered with Indian game developers including Reliance Games, Zapak Digital and Electronic Arts. According to a report by Medianama, users of Freeway will be able to avail themselves of free data through the app when they download any app by these developers.
Right now, the offer will be applicable just for prepaid subscribers using Airtel, Vodafone, RCOM and Idea connections. According to a report by Nielsen in 2015, 95% of the mobile connections in India are prepaid. This explains why Freeway restricts itself to prepaid users.
Freeway is available only to some AT&T customers in the US, and India will be its first big venture outside America. With this move, Syntonic aims to bring Freeway to the entire 200 million strong mobile market of India.
Freeway app will track data usage and also credit data to the user's prepaid data pack. However, it has a limit of either 30 minutes or 25MB data usage (whichever is achieved first). The app will also seek Android permissions to access the user's data usage records.
Freeway has also partnered with Flipkart and Dailyhunt wherein it credits 30MB and 50MB, respectively, into users' data account after they spend at least 30 minutes on the app.
Syntonic will work with content and app publishers in India to leverage Freeway through its 'download and use' data rewards service. It will offer an innovative user engagement solution, which provides a cost effective approach for acquiring and engaging users.
Similar products that currently provide data, wallet cash back or talk time on downloading partnered apps are Gigato, which provides data on downloading apps. mCent, another such player gives talk time in the form of credits. TaskBucks, Ladoo, EarnTalktime and Pokkt, among others, also follow similar models.
---