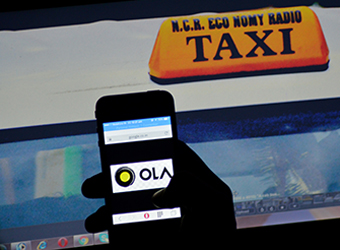 Cab-hailing service Ola is pursuing its predatory tactics complaint against its competitor—the US-headquartered Uber, though it did not specifically name the latter—with government authorities.
"We have spoken to a few stakeholders in the government. We have made the government aware of the predatory pricing by the competition and the government has taken cognisance of the fact," Pranay Jivrajka, chief operating officer of Ola, told Techcircle.in.
Earlier this week, Ola accused its rival of capital dumping to distort the market and appealed to the government to stop it. Ola's criticism against the rival Uber over the use of foreign capital to fund its disruptive pricing drew flak from a section of venture capitalists who said the Bangalore-based company too is funded and owned mostly by foreign capital and Ola too uses subsidised pricing as a business building strategy.
However, Ola has defended its position. "Every ride that the competition is doing today is below the price. It is not the case that we do. In 80% of the market where we don't have this irrational pricing, we have a sustainable pricing and are growing profitably," Jivrajka said.
According to Ola, the problem does not end with offering cheaper ride to customers and undercutting competition; the rival is wooing drivers with exorbitant wages. "Discount is just one aspect; the bigger aspect is driver incentives. The driver who is expecting to make Rs 20,000 is now making Rs 70,000-80,000," he said. "This is not competition. This is sheer attempt to monopolise the market," he added.
"If the market gets monopolised, you would try and recover money from the same set of customers and vendors by increasing prices and reducing wages." Jivrajka warned that this would create a "socio-economic unrest."
Co-founder of venture capital firm Aarin Capital TV Mohandas Pai said Ola should approach the Competition Commission of India if it has complaints about perverse pricing by its rival and prove it using data. When asked about a likely move in this direction, Jivrajka said "The approach that we generally follow is not to create noise in the court but work with the government on the regulatory side of the business. They are generally supportive and think constructively. And that is what our initial attempt is."
Ola and Uber are engaged in bitter court battles. A few months ago, Ola has alleged in Karnataka High Court that rival Uber showed a total disregard for the laws of the land.
According to Jivrajka, the government in the past had intervened in many sectors to ensure fair competition. "The internet space is a recent one and is evolving fast. I think government has understood the challenge and acknowledged it. It might take time but it is not that it will not happen," he said.
Meanwhile, Uber has not yet reacted to the charges raised by Ola. The company spokesperson did not respond to mails seeking a response.
---