Flipkart is already a leader and does not need a turnaround: Kalyan Krishnamurthy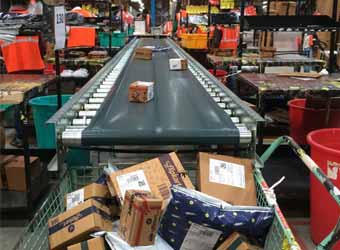 Former Tiger Global executive Kalyan Krishnamurthy, who heads the key portfolios of retail, business development, advertising and products at Indian ecommerce firm Flipkart said he moved to the ecommerce major to stay the course rather than returning to the investment company.
He said he has no immediate plans to return to Tiger Global, the biggest investor in the ecommerce major, where he was a managing director.
In his previous two-year stint at Flipkart starting in early 2013, Krishnamurthy had served as the head of categories and as interim chief financial officer before going back to Tiger Global in November 2014. In an interaction with The Times of India, Krishnamurthy denounced the notion that he was brought back to the ecommerce marketplace to steer the company out of the doldrums the firm has been battling over the course of the past year or so. Rather, he said it was the company's trust in his skills that saw him become an important figure in Flipkart's management squad.
"When I came in 2013, it was agreed I would go back. There was no big reason behind it. This is a different chapter. I am here to stay and put my head down and work," he was quoted as saying by the newspaper.
He said the company wants to play in as many categories as possible and double down on a number of categories such as home and kitchen, furniture, auto components, parts of FMCG and fresh grocery to gain a commanding market dominance in India's rapidly expanding ecommerce market.
According to the report, Krishnamurthy's first major task at the firm was to ensure successful hosting of Flipkart's much touted five-day annual sale event titled Big Billion Day. Under him, Flipkart performed slightly better during the key festive season sale events. During its Big Billion Days sale, Flipkart sold more units, 15.5 million compared with Amazon India, which sold 15 million units during its five-day Great Indian Festival. According to RedSeer Consulting's E-tailing Leadership Index (ELI), Flipkart was placed at 97 while Amazon India came in at 94 on overall rankings for October 2016. "I cannot rally 8,000 people in a few months, they were always together. I could not have done something to suddenly get them going. They were always a formidable force. Flipkart has a history of employees coming together and pulling off massive events (referring to BBD)," he said, attributing the success to the team.
The e-commerce major has been battling eroding valuation as several American mutual funds have marked down the value of their investments in the firm over the course of what looked like a dreadful year for the company. In one of the most recent valuation markdowns, a mutual fund managed by Morgan Stanley lowered the value of its shares in Flipkart by 38.2%, leaving India's largest e-commerce marketplace's valuation at $5.57 billion, nearly a third of its peak valuation of $15.2 billion last year. In addition, the net loss of Flipkart Internet Pvt. Ltd, which operates Flipkart, doubled to Rs 2,306 crore in the financial year ended 31 March 2016, compared with Rs 1,096 crore in the year-ago period, according to filings with the Registrar of Companies.
It was widely speculated that Krishnamurthy, in his second term at Flipkart, has been tasked with the mission of getting the company out of its distress.
However, Krishnamurthy denied the idea and told the publication that Flipkart didn't need a turnaround. "There is an assumption here that the company needed a turnaround. We are among the top three-four consumer brands in the country. We have assets that are unmatched; it is wrong to say that we needed to turnaround. You should admire people when they experiment at scale. It is easy to keep doing what you are doing forever," he said.
He also questioned the call for immediate profitability but rather endorsed the idea of winning more categories. He said his mission is to widen the scope of online shopping by focusing on winning more categories without having to offer huge discounts.
Comment(s)