Drone startup ideaForge gets funding from Infosys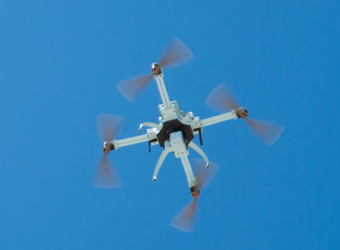 Infosys Ltd, India's second-largest software services exporter, said on Wednesday it has invested in homegrown drone maker ideaForge Technology Pvt Ltd.
The investment was made from the Innovation Fund, the IT company said in a stock-exchange filing.
Infosys said that ideaForge has built Unmanned Aerial Vehicles (UAV) that have been widely deployed by the Indian armed forces for surveillance, crowd monitoring and rescue operations. These UAVs also have commercial applications in verticals such as energy, utilities, telecom and agriculture.

The startup's UAVs feature fully autonomous operation, cutting edge failsafe technology, high endurance, image intelligence with live feed, and support for complex payloads such as thermal and high-resolution imagery, Infosys said.
"ideaForge's high performance UAVs, which have been designed and built in India, have significant potential in industrial use cases. We are looking forward to working with ideaForge and bringing their technology, expertise, and solutions to our clients to unlock new business insights from operational data that has previously been difficult to obtain," said Ritika Suri, executive vice president and global head of corporate development and ventures at Infosys.
Ankit Mehta, co-founder and CEO at ideaForge, said that the backing from Infosys will help the company in playing an important role in its industrial expansion to address a wide variety of data acquisition and analysis needs.

The investment is subject to receipt of regulatory approvals and customary closing conditions.
Mumbai-based ideaForge was founded by IIT Bombay alumni in 2007. It was earlier incubated at SINE IIT Bombay and CIIE, Ahmedabad. Other drone startups in the country include Edall Systems, AirPix and Airwood Aerostructures Pvt. Ltd. Chennai-based Airwood had raised seed funding from StartupXseed Ventures LLP in May this year.
Bangalore-based Infosys is actively scouting for companies working on innovative technologies. It had announced the $500-million Innovation Fund, earmarked for investments in disruptive new technologies, earlier this year. It had also said that it would invest in companies that develop innovative technologies on automation, Internet of Things (IoT) and artificial intelligence (AI).

The Innovation Fund has invested in a number of companies. It made investments in cleantech startup Airviz, strategy and implementation services provider ANSR Consulting and Nova, which is a spin-off from DreamWorks Animation, an animation technology and animation film producer.
In December last year, it invested $3 million in WHOOP Inc, a US-based startup that offers performance optimisation solutions for professional athletes and sports teams. Prior to that, Infosys had picked up a minority stake in CloudEndure, an Israeli startup that provides cloud migration and cloud-based disaster recovery software, for $4 million.
In January, Infosys decided to invest $4 million in Delaware-based startup Waterline Data Science Inc, which helps companies make sense of large data sets.

In August, Infosys invested $4 million in Israeli cloud monitoring solutions startup Cloudyn Software Ltd.
In November, Infosys invested about $2 million in UNSILO, a Danish artificial intelligence startup focused on advanced text analysis.
---