Myntra clocks sales of Rs 850 crore in January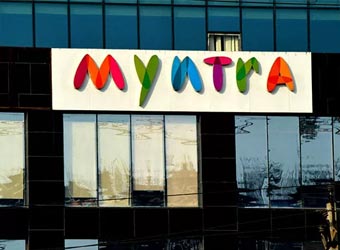 Flipkart-owned Myntra registered sales of over Rs 850 crore ($126 million) in January, including those from its recently acquired unit Jabong, a financial daily reported on Monday.
Buoyed by its 'End of Reason Sale', the online fashion retailer hit an annual revenue run rate of $1.6 billion during the month, Mint reported, citing two executives familiar with the numbers. The strong numbers will be a positive indicator for the company, which is chasing an annual revenue target of $2 billion by FY18.
In the latest edition of the 'End of Reason Sale' over January 3-5, Myntra claimed 160% growth in revenue. It typically conducts two highly-advertised sales events a year–in January and July–when its sales zoom past those at parent Flipkart and rival Amazon. This is the fifth year of the sale event by Myntra.

The fashion retailer is also looking to add more exclusive brands on the platform under the 'Myntra Brand Accelerator Programme', the newspaper quoted Myntra CEO Ananth Narayanan as saying, who added that it will continue to seek strategic tie-ups including acquisitions and brand partnerships.
The company posted a revenue of Rs 1,069 crore for FY16, registering 38% year-on-year growth. Losses widened from Rs 741 crore to Rs 816 crore, however, according to regulatory filings. The sales growth of 38% was a sharp fall from the 75% growth Myntra witnessed in the previous two years, apparently due to its decision to go app-only in May 2015. It dropped that strategy and re-launched the desktop site in June 2016.
Meanwhile, Vector E-commerce Pvt Ltd, the biggest seller on online fashion marketplace Myntra, posted a loss of Rs 8.72 crore in FY16 after turning a profit in the last two financial years, filings with the Registrar of Companies (RoC) show. Profit after tax stood at around Rs 6.5 lakh in FY15.

Myntra had earlier said that it expects to hit a revenue run rate of $2 billion, achieve profitability and 60% net promoter score (NPS) by FY18. It continues to focus on its private labels, which contribute close to 23% of its overall business currently.
Myntra's parent Flipkart expects its fashion business to turn profitable by the middle of next financial year.
In July this year, Myntra had agreed to acquire its main competitor Jabong from Global Fashion Group for $70 million (Rs 470 crore) in cash. Flipkart Fashion, Myntra and Jabong accounted for nearly a third of gross sales for the e-commerce firm in the September quarter.

---