FundsIndia.com, an online investment platform that last raised external funding in 2015, is likely to turn a profit for the fiscal year ending this month and double its revenue as it benefited from a rise in mutual fund investments thanks to the stock market boom.
"We have been profitable since August 2017, and we might end up making a profit for the full financial year ending March 2018," says CR Chandrasekar, co-founder and chief executive of Wealth India Financial Services Pvt. Ltd, which runs FundsIndia. "We will be at least very close to net profit for the year."
The Chennai-based company's revenue has grown 10-fold to Rs 30.6 crore in 2016-17 from Rs 2.9 crore in 2012-13. It expects revenue to touch Rs 60 crore for 2017-18.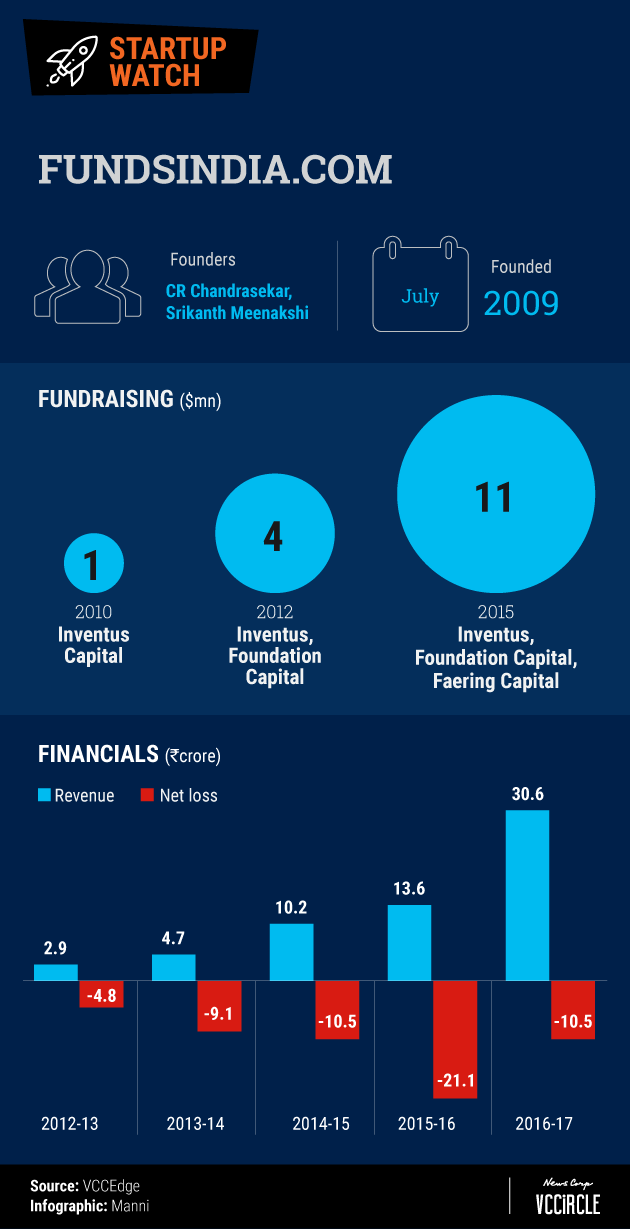 The company reported a loss of a little more than Rs 10 crore for 2016-17, down by half from Rs 20 crore for 2015-16, but up from Rs 4.8 crore for 2012-13.
Reflecting on the company's upward trajectory, Chandrasekar said, "Markets turned in our favour and the campaign to invest in mutual funds over the past couple of years helped us. We stepped up, too, and revamped the product. Our marketing expenses remained the same but we had a better conversion as we got more customers with the same budget."
The company happened to be at the right place at the right time, said Srikanth Meenakshi, co-founder and chief operating officer. "We had the experience of running this for long enough before the smartphone boom, and we were ready for it," he added.
Mutual fund investments into India's stock markets have grown rapidly especially after the government, in November 2016, banned old high-value notes. While the shock move was aimed at fighting tax evasion and graft, it prompted people to channel their money into the stock markets, either directly or through mutual funds.
FundsIndia mostly distributes mutual fund products online, besides stocks, savings accounts, insurance and corporate fixed deposits. The company says it has more than 200,000 customers and has facilitated sales of assets worth Rs 5,200 crore. The firm gets a commission of 0.2-0.8% from the sales of mutual fund products.
Moreover, FundsIndia deploys analytics to save clients' time on research. "We are using analytics based on risk profiles," said Meenakshi.
The company was founded in 2009 and raised three rounds of funding from venture capital and private equity investors. Its most recent funding was in 2015 when it raised Rs 70 crore ($11 million) in its Series C round led by PE firm Faering Capital, with follow-on investments from Foundation Capital and Inventus Capital Partners.
FundsIndia competes with the likes of Scripbox.com and Groww. Offline brokerages such as Sharekhan and Angel Broking also have similar online apps and platforms.
Scripbox reported revenue of Rs 3.6 crore for 2016-17, a little more than a tenth of FundsIndia's. It raised an undisclosed amount in its Series B round led by Omidyar Network in 2016. Existing investors, including Accel Partners and some angel investors, also participated in the round.
Groww was founded in April 2016. It raised funding earlier this year from Y Combinator, a US-based seed investor and accelerator, and serial entrepreneur Mukesh Bansal.
On his part, Chandrasekar said FundsIndia was not worried about others catching up as 60 million customers would join the market over the next few years, expanding the pie for everyone.
---