* This story is part of a fortnightly series on accelerators and incubators in which we compile report cards highlighting the successes and failures of the startups they nurtured and spawned.
A fortnight ago, mobile-based payments firm Click & Pay was bought by enterprise cashback company Zaggle.
In the process, it became the first startup from YES FINTECH's stable to be acquired, less than two years after the business accelerator was launched by private-sector lender YES Bank.
YES FINTECH is essentially a platform for the bank and fintech startups to develop banking solutions together. It works in a cohort-based format, where startups work towards creating and implementing use-cases of technology for sectors such as capital markets, cybersecurity, smart contracts, and social media payments, among others.
Now in its second year, the business accelerator has supported 18 startups so far.
The accelerator's second batch graduated in May this year and a YES Bank spokesperson told TechCircle that it will start accepting applications for its third cohort in October.
The accelerator takes in about 8-10 startups per cohort on the basis of their use case fitment, scalability of the solution, innovation quotient, founding team, and technology usage.
There is an eight-week scouting phase during which startups matching use cases identified by the bank are selected. Each cohort then participates in a 15-week training programme.
At the start of the programme, internal business teams are identified within YES Bank to release access to its APIs (Application Programme Interfaces) and facilitate implementation.
This is followed by developing the startup's beta product over 40-55 days, which is then tested among a closed group. The PoC (Proof of Concept) is then finalised during the last fortnight.
"Over the 15 weeks, each startup is also guided by a business mentor focusing on scale-up, business and financial modeling, and fundraising, while a technology mentor advises them on the tech stack," said YES Bank's spokesperson.
The accelerator does not impose an upfront equity commitment in the event of its startups landing funds via partnered venture capital firms.
Five of YES FINTECH's startups have landed either single or multiple rounds of external funding. While none of its startups have shut down so far, the accelerator is yet to seal an exit barring the acquisition of Click & Pay.
Recently, YES Bank expanded the scope of its accelerator to include various other verticals - agri-tech, clean-tech, smart cities, life sciences and ed-tech - through another programme that it has christened YES SCALE.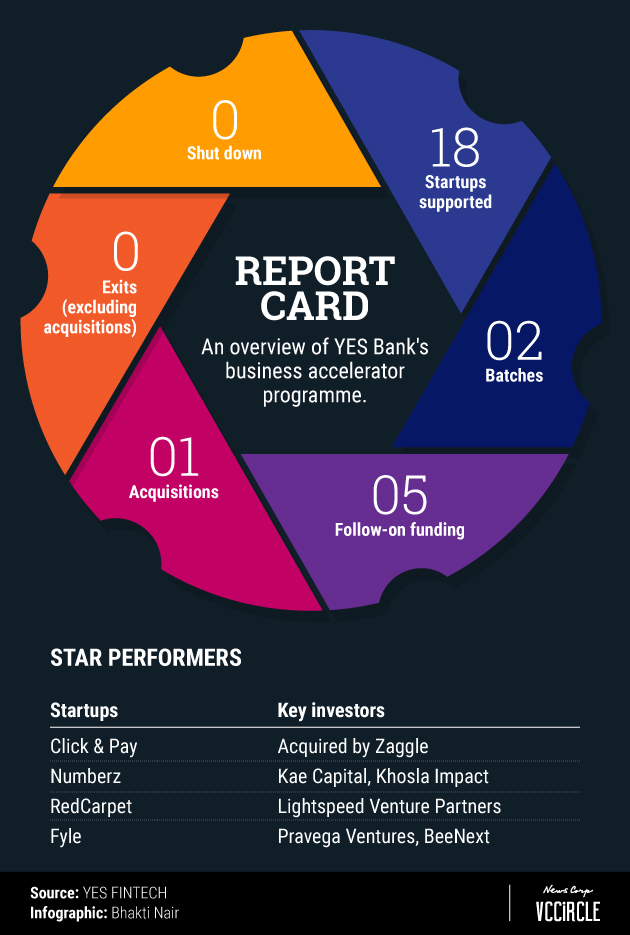 Below are some of the rising stars that have graduated from YES FINTECH's programme:
Click & Pay: Founded in 2015 by Kalyan Karteek, the startup provides mobile-based secure and cashless payment solutions. Its platform allowed users to make payments by helping them find the best offers in their locality and providing cashbacks on successful transactions.
Click & Pay's website is not functional anymore. Its new parent, Zaggle, is developing an expense management platform and will integrate Click & Pay's 25-member team.
Numberz: Numberz is a cash-flow management startup which is run by Gurugram-based Paradime Technologies Pvt. Ltd. It was founded in July 2015 by Aditya Tulsian, Baskar Ganapathy and Rajeev Chari.
The startup helps small and medium enterprises (SMEs) manage their cash flow by including services such as invoice management and expense management.
The company raised seed funding of $650,000 from investors Kae Capital and Khosla Impact in November 2016
RedCarpet: Micro-lending startup RedCarpet Tech Pvt. Ltd was founded in 2015 by Abhay Tamaria, Sandeep Srinivasa, and Kartik Venkataraman.
The Gurugram-based company provides instant credit scoring and enables get financing using advanced artificial intelligence. It helps users avail instant credit for online purchases. Users can even buy products from any site and pay back in installments.
In March last year, RedCarpet raised $2.5 million from venture capital firm Lightspeed Venture Partners.
Fyle: The Bengaluru-based startup was founded in 2016. Fyle provides employees a single platform to file expenses through a plug-in that extracts and classifies data from bills inside emails and paper receipts. The plugin also creates structured data from PDFs, emails and other documents.
Fyle's algorithm also checks every transaction with company policy across the entire database to ensure no fraud or duplication.
Balance Technology: Bengaluru-based Balance Technology Pvt. Ltd is a savings management app that invests users' money in debt mutual funds that have zero lock-in and offer returns of up to 8.7% per annum. The startup was founded last year by two IIT-Kanpur graduates, Ankit Kumar and Abhishek Malik.
In May 2017, the company raised Rs 1.5 crore (around $233,000) from Rainmatter, a fintech fund and incubator managed by stock broking firm Zerodha.
Getting there
These startups have shown promise but are yet to attract significant investor interest.
Karza: Headquartered in Mumbai, Karza was founded in 2015 by Gaurav Samdaria and Omkar Shirhatti. The company provides cloud-based solutions for lending decisions and aims to assist lending institutions with issues such as non-performing assets and loan fraud through big data.
Pingal Technologies: Mumbai-based Pingal Technologies was founded in 2017 by Ajay Rastogi, Digvijay Singh Baghel and Shivendra Singh. The company is focused on analytics that acts as a workbench for intelligent dashboard creation.
---