Flashback 2018: Partnerships, regional content boost growth in India's OTT space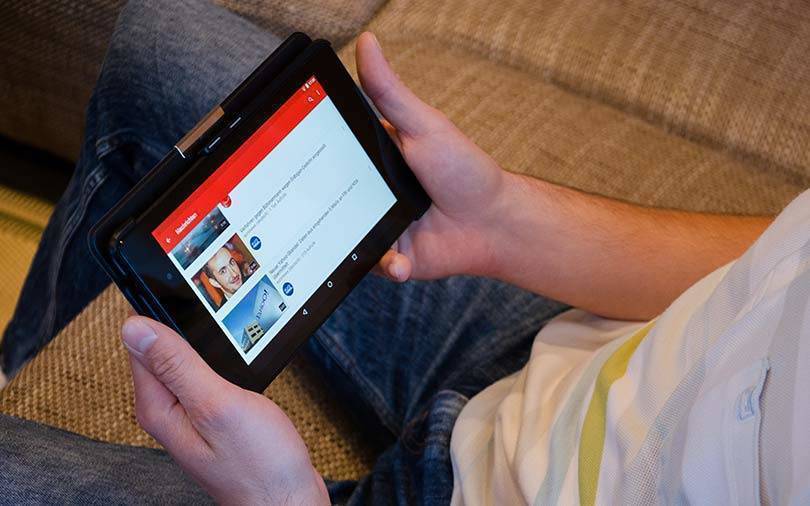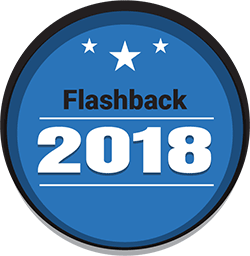 As data prices and device costs for smartphones have fallen, India has emerged as a key market for over-the-top (OTT) content, attracting players across the spectrum to set up shop.
While global streaming players like Netflix and Amazon Prime Video have developed exclusive content for India, Chinese live-streaming apps, including TikTok, Bigo Live and Toutiao-backed Helo, have gained popularity.
Also wanting a pie of the India market is Swedish music streaming app Spotify, which is months away from officially launching in the country.

Besides the streaming giants, other players in the fray include large technology companies like Facebook, which earlier this year signed a three-year agreement to live telecast Spanish football league La Liga in South Asia. The social networking company along with Mukesh Ambani-led Jio made a strong bid for the broadcast rights of cricketing championship Indian Premier League against seasoned players like Sony and Star India. The bid was awarded to Star India for Rs 6,138.1 crore.
According to a report by global management consulting firm Boston Consulting Group, the number of OTT players in India grew 3.5 times from 2012 when there were only nine players to 32 in 2018.
With multiple contenders, the shape of OTT content will be determined by multiple aspects including the partnerships formed in a market which is expected to grow 10 times over the next five years.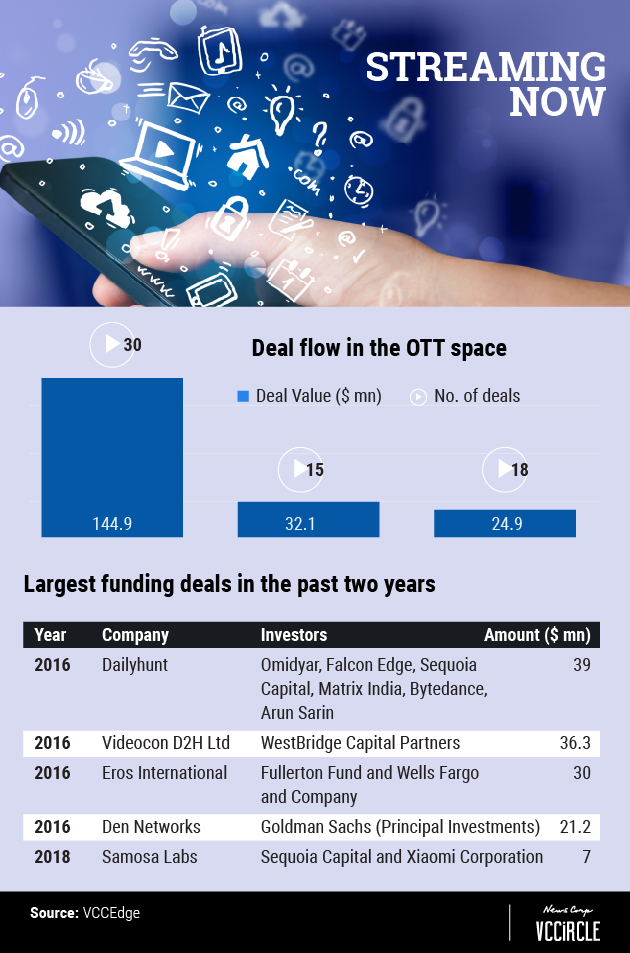 Diverse contenders
According to market watchers, it is not just the streaming platforms like Amazon Prime and Netflix fighting the broadcasters but also technology platforms and telcos. While Reliance Jio has created multiple categories including Jio TV, JioSaavn Music and JioCinema, other telecom players like Airtel and Vodafone Idea Ltd are bundling offerings from streaming players like Netflix, Amazon Prime and HOOQ. Airtel pushes its in-house music streaming service Wynk to users while its rival has Vodafone Play for streaming.
"With its offerings, Jio has created a strong portfolio of content. There is a good chance that telcos will create a significant chunk of the market for content providers through partnerships. It also benefits companies like Netflix which get a push," said Gaurav Jindal, principal at BCG.

He added that the model can be based on services available in the Middle East where users pay for the content as part of their mobile bill payments. "It is difficult to say though whether partnership or aggregation is the right way ahead," says Jindal.
OTT players providing specific content have also attracted investors to the space, where companies are either horizontal players like Facebook or dedicated verticals on a specific topic such as beauty, travel, etc.
Sanjot Malhi, vice president at investment firm Matrix Partners, said that his company is looking for bets in news, local discussion platforms, audio content, devotional and religious content, and beauty platforms, among others.

"We are looking at indigenous and India-specific use cases because we believe that it will drive user engagement and defensibility," he added.
Riding the vernacular wave
Regional language social media app ShareChat's $100-million funding round in September led by Shunwei Capital clearly set the precedent that the way to tap into the next billion users is through local language content.

Interestingly, Shunwei Capital also invested in Vokal, a regional language knowledge sharing platform started by former TaxiForSure co-founder Aprameya Radhakrishnan and vernacular health content app, myUpchar.
Apart from these players, news site DailyHunt is also looking at regional language content and videos as a hook for growth and raising its next round of funding. NewsDog, which counts Hindi and other local language users among its primary audience, also raised $50 million led by Tencent.
OTT streaming players have also started investing more in developing local language content. While players like AltBalaji and SonyLIV have original shows in different regional languages, global players like Amazon Prime have a content library in six languages and Netflix has announced 10 originals for the India market.

"If you look at internet usage, India is now the largest per capita data consumer in the world, consuming over 9 GB of data per month per user, which is unheard of in the world over. Of this, 50-60% is going to some form of OTT content, mostly video. If we put some of these key trends together—a large internet base, 80% non-English speaking in the next five years and large consumption of data, mostly going to OTT content—that is going to create value for the next few years," Matrix's Malhi said.
The multi-stage investment firm has backed news platform DailyHunt and short video platform Clip.
These bets are likely to pull users, who prefer watching content in regional languages, away from traditional broadcasters and pushing them towards OTT platforms.
India is not China
Though analysts compare the Indian market with that of China to estimate the growth potential of the OTT market, it will be unfair to compare both, given the socio-economic and cultural differences.
"China does not have very interesting content on TV as it is state run. That is not the case in India," said BCG's Jindal.
The amount of money being spent on entertainment per capita in India is a fraction of that spent in China, he added. The current struggle on monetisation channels for these apps is likely to continue for some time.
"China was initially supported by ad-revenue, until a few things fell in place. They (developed a) series, similar to Game of Thrones, which you could watch for free for each episode but to binge watch, you have to pay. It creates a fear-of-missing-out," Jindal explained.
According to him, a platform has to have enough content so that users return to it each month.
Malhi of Matrix said that short video apps in China make money through micro-payments on apps or e-commerce through content, both of which are not very popular in India.
"China also has a lot of social experience around content wherein singers give away tickets for free and other benefits for subscribed users. Also, payments on mobile for content (in India) are just falling in place with BHIM and other channels," Jindal said, adding that for the time being, content in India will primarily run with advertising as a revenue model.
As more Indians consume digital content, players will vie with one another to be among the top three entertainment apps on a user's smartphone.
---