Aided by frontier tech, firms to accelerate into next phase of digital transformation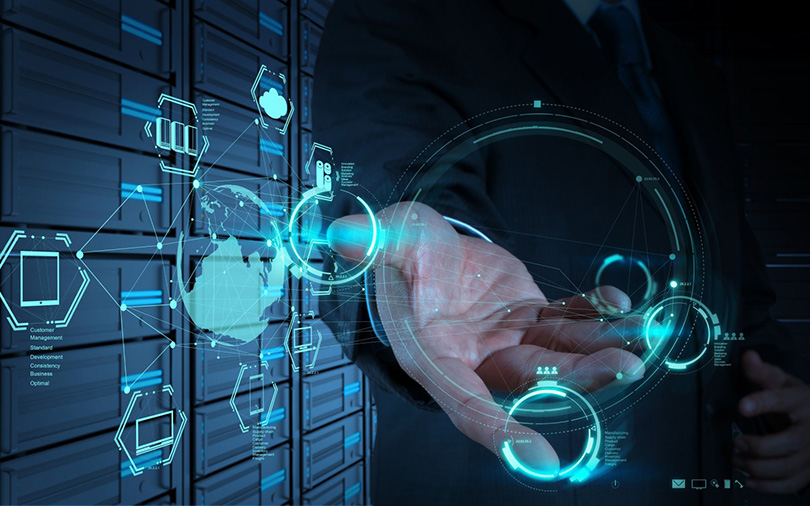 As enterprises across the board seek to digitally transform themselves to scale up operations more efficiently, frontier technologies will play an increasingly important role in that mission. Some of the technologies that will play a greater role than others include artificial intelligence (AI), Internet of Things (IoT), and augmented and virtual reality (AR/VR), according to a study conducted by VCCEdge, the research arm of Mosaic Digital, the company that owns TechCircle.
Nearly 95% of the enterprises surveyed as part of the study -- a total of 900 enterprises took part in the study -- are working towards digital transformation in one form or the other. Such enterprises expect around 70% of their information technology (IT) spends to be in digital technologies. The study concluded that seven technologies, in particular, would drive this digital transformation -- cloud, AR/VR, AI, IoT, future workforce, security and social.
The survey was conducted as a precursor to TechCircle's upcoming 7 Digital Dialogues summit on 11 and 12 April, which will bring together executives from across industries to share insights and best practices on their ongoing digital transformation journeys. More than 150 executives, including leading chief information officers (CIOs), are expected to attend the two-day summit.

What's driving digital transformation
The push into digital transformation is driven by three factors. One, consumers are choosing digital as a medium of interaction. Two, enterprises are realising the need to hit the market faster than rivals. Three, reshaping workforce processes to increase efficiency and accuracy.
According to a 2018 report from research firm Gartner, global IT spending was expected to grow 4.5% to reach $3.7 trillion last year. John-David Lovelock, research vice-president at Gartner, said that despite concerns of Brexit and global recession, businesses would continue to invest in IT in 2018.

"Projects in digital business, blockchain, IoT, and progression from Big Data to algorithms to machine learning to AI will continue to be the main drivers of growth," Lovelock had said in the report.
Another report from Gartner predicts that India's IT expenditure is projected to reach $89.2 billion in 2019, with devices and enterprise application software emerging as key drivers. This would mark an increase of 6.7% from the estimated spending of $83.6 billion for the previous year.
The report said that IT spending in India continues to be driven by digital business transformation initiatives from both private and public organisations.

Reshaping work processes, increasing efficiency
When companies think or talk about digital transformation, one of the key things they look at is reshaping work processes to increase accuracy and efficiency, which in turn will help them to hit the market faster or serve customers in a better way.
The reshaping includes introduction of software suites that allow workflow automation, integration of other departments into ERP-like (enterprise resource planning) software and inclusion of bots to run tasks that are repetitive and time-consuming for human employees.
Underpinning these strategies are technologies such as AI, machine learning, analytics, cloud and robotic process automation (RPAs).
In fact, a report from Gartner claims that a quarter of the digital workforce (workforce of the future) will use virtual employee assistants (VEAs) such as Amazon's Alexa daily by 2021, up from just two per cent at present.

"Industries such as insurance and financial services are showing strong interest in piloting VEAs internally. We've also witnessed virtual assistants (VAs) being used in IT, customer service and information queries," Annette Jump, senior director at Gartner, said, estimating that there were more than 1,000 vendors providing VAs and chatbots.
The research firm, in a separate report, also claims that the global spending on RPA software is expected to reach $680 million by the end of 2018, an increase of 57% year-on-year. The biggest adopters of RPA currently include banks, insurance companies, utilities and telecommunications companies.
In terms of AI, the research firm had predicted that the global business value derived from AI would reach $1.2 trillion (Rs 80.3 trillion) in 2018, an increase of 70% from $692 billion (Rs 46.3 trillion) in 2017. In fact, the firm, after conducting a global survey, had said that the number of organisations embedding AI in their processes has grown 270% since 2015 and has tripled over the past year alone.

Interestingly, the government of India has allocated $480 million to the development of AI, machine learning and IoT. However, delivery of most of these technologies are happening over the cloud with the emergence of Software-as-a-Service (SaaS), Platform-as-a-service (PaaS) and Infrastructure-as-a-service (IaaS). "What this signals, for example, is more enterprise use of cloud services — instead of buying their own servers, they are turning to the cloud. As enterprises continue their digital transformation efforts, shifting to 'pay for use' will continue. This sets enterprises up to deal with the sustained and rapid change that underscores digital business," Lovelock said.
Analytics, business intelligence and predictive maintenance
While reshaping the workforce forms one part of the digital transformation initiative for a company, analytics is the second cog.

An approach towards analytics allows the company to collect new data from new systems such as IoT, store them together in a data lake and then run AI-based algorithms on it to get newer insights, often called business intelligence, to come up with new strategies for marketing and sales.
Indian organisations, says a Gartner report, are increasingly moving from traditional enterprise reporting to augmented analytics tools that make data preparation and cleansing faster. This change will help the analytics and business intelligence software market in India grow 18% in 2018 to almost $304 million, the report said.
Another report from Gartner said that the use of augmented analytics would drive sales of analytics, business intelligence, data science and machine learning platforms, and embedded analytics.
Another area where companies are deploying IoT systems are in factories either for smart warehousing functions or for predictive maintenance. In terms of maintenance, companies employ systems that monitor how each machine is performing, making sure that they don't break down and cause losses.
According to an IDC report on the Asia-Pacific and Japan region, India spent $19.6 billion in IoT combining hardware and software spend, second to China and South Korea. And the top three industries in the entire region that spent on these solutions were discrete manufacturing ($43.9 billion), process manufacturing ($33.2 billion), and utilities ($20.1 billion).
Redefining customer experiences
"Customer is king!" – this statement still holds true for most enterprises. There has been a rising trend that shows companies are switching to new and easier digital modes of communication with customers so that they no longer have to wait for delivery of any kind of service.
Experts claim that this also helps in garnering more data about customers. Redefining these experiences calls for the use of technologies such as natural language processing (NLP), AI and machine learning via mediums such as bots (chat and voice), bots on popular digital assistants and email bots.
Another area where experiences are being redefined is retail in terms of fashion and automobiles. Companies are using technologies such as VR, AR and extended reality (XR) to redefine showroom or trial-room experiences.
According to an IDC report, spending on AR and VR products and services was expected to reach $27 billion globally in 2018, a 92% increase year-over-year.
---