US fugitive John McAfee wants to launch Cuban cryptocurrency; Kaspersky warns of new ransomware: Reports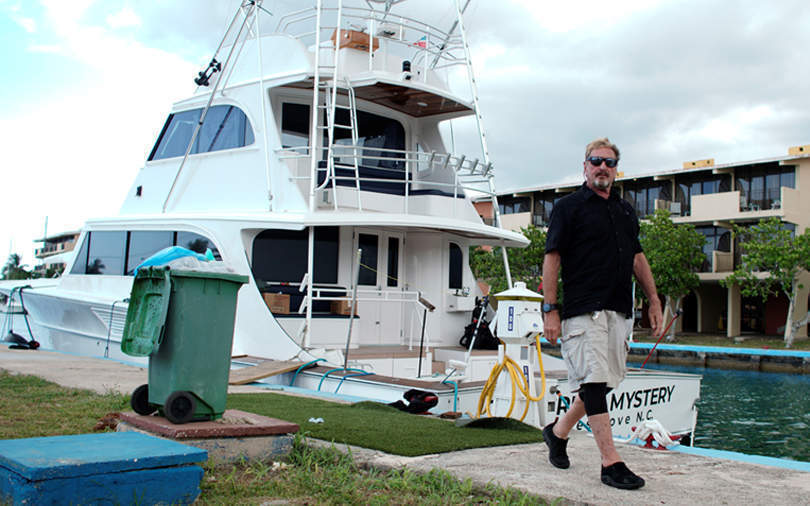 Holed up in Cuba to avoid US tax authorities, tech guru John McAfee thinks he can help the Caribbean country defeat an American trade embargo by launching a cryptocurrency, said news agency Reuters.
McAfee, the creator of the world's first commercialised anti-virus software in the 1980s, said that the anonymity of the digital currency could help the country overcome an economic crisis. The communist government of Cuba had earlier stated that it was exploring the use of cryptocurrency to counter the worsening situation brought on by tighter US sanctions.
"You can't just create a coin and expect it to fly. You have to base it on the proper blockchain, have it structured such that it meets the specific needs of a country or economic situation," said McAfee.

McAfee reportedly did not pay income tax for close to eight years for ideological reasons and left the US in January for the Bahamas to escape trial.
Ransomware
Cybersecurity giant Kaspersky has warned the public about a new encrypted ransomware named Sodin, which exploits a Windows vulnerability.

Sodin takes advantage of the architecture within the central processing unit (CPU) to avoid detection, a never-before-seen tactic that has worried many experts.
The vulnerability that was first discovered on 10 October 2018 is called CVE-2018-8453, said the company.
"Ransomware is a very popular type of malware, yet it's not often that we see such an elaborate and sophisticated version: Using the CPU architecture to fly under the radar is not a common practice for encryptors," said Fedor Sinitsyn, a researcher at Kaspersky.

Sinitsyn also said that Kaspersky expects a rise in the number of attacks from Sodin as the amount of resources required to build the malware are significant.
"Those who invested in the malware's development definitely expect it to pay off handsomely," Sinitsyn added.
Kaspersky said that the virus leaves a note stating a demand for bitcoins worth $2,500.

Pune smart-city initiative
The Pune Smart City Development Corporation Ltd (PSCDCL) has partnered the University of New South Wales (UNSW), Sydney for smart-city initiatives, according to news agency IANS.
The report stated that PSCDCL would be helped by UNSW in taking forward Pune's digital innovation plans with big-data analytics.

"Practical applications of the use of big-data analytics tools during the workshop would allow public policymakers to visualise and test possible future-city growth scenarios," UNSW said in a statement.
---