Quikr valued at $569.9 mn post markdown by Swedish investor AB Kinnevik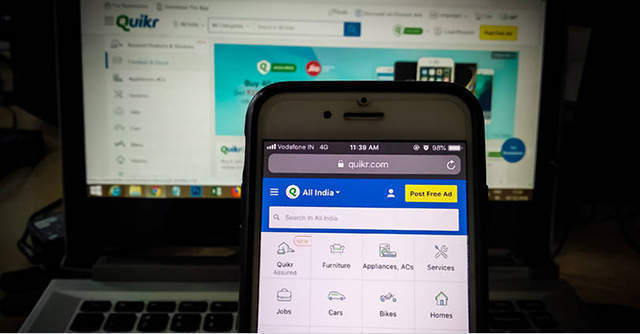 Stockholm headquartered investment firm AB Kinnevik valued its 17% stake in online classifieds company Quikr at $96.9 million (SEK 941 million) as on December 31, 2019, down from $175.3 million (SEK 1,703 million) a quarter ago, according to its quarterly report released earlier this month. The valuation markdown by Kinnevik puts Bengaluru-based Quikr's overall fair market valuation at $569.9 million against $1.03 billion in the quarter ended September 2019.
"Quikr has discovered that certain dealers and vendors within the managed rentals and cars segments have placed fictitious or misrepresented transactions on its platform. These had the dual effect of potentially overstating the value of transactions and revenue generated in these categories, while introducing risk on recoverability of receivables," Kinnevik noted in its report.
While Quikr introduced restrictions on the number of transactions in the two verticals, it is also improving internal processes to prevent the recurrence of such events, the report said, adding that the company has initiated criminal action against the persons involved.

Speaking to analysts during Kinnevik's earnings call on February 6, 2020, Samuel Sjostrom, head of strategy for the Swedish firm, said, "In valuing our Quikr investment, we have moved away from a discounted cash flow analysis and now instead base our valuation on forward-looking net revenue multiples. More specifically, we are focusing on Quikr's upcoming fiscal year ending in March 2021. By doing this, we base our valuation on a near-term budget instead of longer-term projections and also make our valuation of Quikr increasingly linked to the trading of its publicly listed peers. Our valuation, thereby, also reflects the reduced footprint and amended accounting principles…"
Responding further to analyst queries on the valuation markdown, Kinnevik CEO Georgi Ganev said, "We also know that the CEO and his team has taken forceful measures and addressed what has occurred, and no one in the C-suite or the level below have been identified of being complicit in these fraudulent activities. So it's basically people further down in organization. So since then, Quikr has also laid off a lot of their workforce, basically, half of the workforce, in order to become profitable faster and not dependent on funding, which is, of course, something that we appreciate. So we sit now with a smaller company, but we also think it's much healthier…"
The alleged fraud comes amidst an operational reorganisation of Quikr that involves the merger of its nine subsidiaries, pending regulatory approval. Since 2015, the company has acquired 15 entities, according to data compiled by VCCEdge, with the most recent being used goods marketplace Zefo last year.

This isn't the first time that Quikr's valuation has wavered. The company reportedly became a unicorn (startups valued at $1 billion or more) in April 2015, when hedge fund Steadview Capital led a $150 million growth funding round in the company.
An independent valuation report filed by the company in May last year with the Ministry of Corporate Affairs valued it at $1.5 billion. However, a month later, in its interim report for the quarter ended June 2019, Kinnevik valued its 17% stake in the company at $157 million, putting its overall fair market valuation at $933 million.
In the first six months of financial year 2019-20, Quikr's annualised cash revenues stood at Rs 465 crore (around $60 million), with the growth rate higher by about 60% compared to the previous year, Kinnevik said in its latest report.

More than 50% of Quikr's revenue, Kinnevik said, is generated from commissions on transactions rather than listing fees from classifieds. In addition to online commissions, the company earns revenues from offline used goods franchisee stores.
Founded in 2008 by Pranay Chulet and Jiby Thomas (Thomas quit the company in 2012), Quikr connects buyers and sellers across product segments such as automobile, used and new goods, electronics, education and real estate.
Other than Kinnevik, it counts New York headquartered alternative investments firm Tiger Global Management, private equity firm Warburg Pincus, hedge fund Steadview Capital and Nokia Growth Partners among its investors. Overall, the company has raised about $350 million since inception.

Quikr's main competitor is OLX, which is backed by Cape Town headquartered investment firm Naspers. OLX has posted profits consistently for three years in a row. In FY19, it reported net profit of Rs 22 crore, up 41% with a 123% growth in topline to Rs 400 crore.
---