The revenue potential of bike taxis in India stands at about $5 billion, Ola Mobility Institute (OMI), the policy research arm of Bengaluru based ride-hailing startup ANI Technologies, said in a report published on Tuesday.
Ola has called for legal clarity, integration of public transit systems, access to formal credit for driver entrepreneurs and a level-playing field for all stakeholders in order to facilitate effective governance of bike taxis as a mobility category.
Some of the well-funded players in the bike taxi space in India include Ola Bikes, Uber Moto, and Rapido. Baxi, one of the first bike-taxi companies in the country, has now pivoted into hyperlocal deliveries.
Also read: Can bike taxi startups ride their way to growth?
"The report comes at a critical time when India needs to create 55-60 lakh new jobs annually over the next decade. Bike taxis will be key in achieving this target, democratising access to mobility and building an inclusive mobility ecosystem," Anand Shah, Head, Ola Mobility Institute said in a statement, said.
The report titled 'the power of two wheels - bike taxis: India's new shared mobility frontier,' is based on an empirical analysis of bike taxi operations in Gurugram and Jaipur, the statement claimed.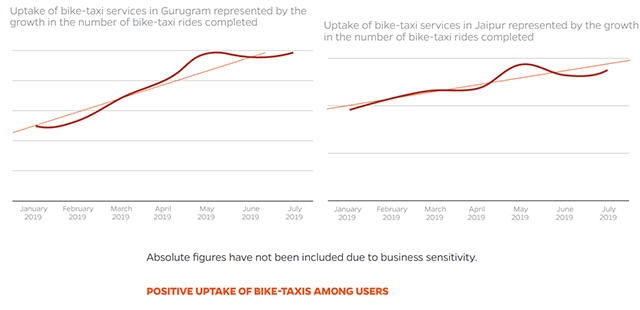 Source: The Power of Two Wheels - Bike Taxis: India's new shared mobility frontier (Ola Mobility Institute 2020)
According to Ola, bike taxis are an ideal first mile-last mile solution as 70-85% of customers prefer to use bike-taxis to travel distances less than seven kilometres. In Gurugram, data showed that 1 in 3 trips are to and from metro stations with the majority of trips happening during peak hours.
"The journey of bike-taxis in India has been fraught with many ups and downs. While the central government has paved the way for states to frame their bike-taxi policies, to date only 13 states and union territories in India have set out clear rules permitting bike-taxi operations. Some of the largest mobility markets like Delhi, Maharashtra, and Karnataka are yet to notify rules governing bike-taxis," the report said.
The report comes shortly after rival ride-hailing platform Uber urged the government to allow private players to run shuttle, bike and auto-sharing, as well as carpooling services, in a joint report with B.PAC (Bengaluru Political Action Committee), last week.
The Karnataka government recently proposed an electric bike taxi project in the state budget. Bike taxis are currently banned in Mumbai and Bengaluru, two of the most congested cities in the world.
The report added that bike taxis are an "attractive" livelihood opportunity for those aged 18-45 years.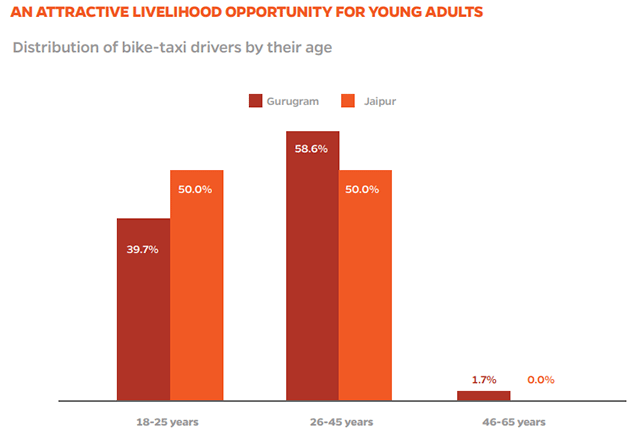 Source: The Power of Two Wheels - Bike Taxis: India's new shared mobility frontier (Ola Mobility Institute 2020)
---