As much as 87% of investors in the Indian startup ecosystem said they will focus on sectors that have seen a positive impact on business during the Covid-19 lockdown, according to a survey by Mumbai-based venture capital firm 100X.VC.
The sectors, according to the 100X.VC India Sentiment Outlook Survey, are subscription-based commerce, healthtech, safety and wellness services, online enabling technologies, software-as-a-service (SaaS) business applications, cloud infrastructure, fintech, deeptech and artificial intelligence, agritech, delivery and logistics, and edtech.
"Understanding the risks associated with these industries means shifting old investment thesis and reshaping new capabilities to build scale, manage the portfolio companies' growth," according to researchers of the survey.
Read: Essential services startups dominate dealmaking in April second week
The bipartite survey took into account responses from 76 investors, including angel investors, venture capital firms, institutional investors, corporate investors and family office investors, for one section.
The other section, with founder-focussed insight, was based on responses from over 198 Indian founders.
At 91%, almost all the investors surveyed said that they would delay early stage investments, signalling the adoption of a 'wait and watch' strategy to see how the Covid-19 situation unravels.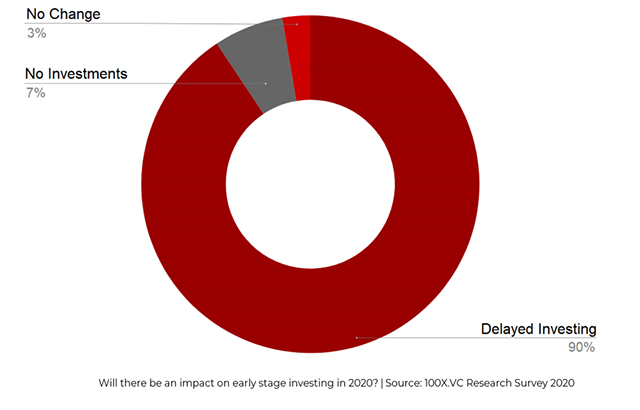 The survey observed that while venture capital firms, angel investors and family offices are currently open for business, corporate venture capitalists are likely to pause their investments for a while.
"All investors are actively working with their existing portfolios and once the present situation cools down a bit, they will start spending more time in discovering right opportunities," the researchers said.
At 75%, a large percentage of the investors believe that founders are seeking lower valuations, in alignment to the current business climate, the survey showed. The rest, who do not expect a change in valuations, could be "all weather" companies or ones that have been positively impacted by the current crisis, it added.
"The 30 crore valuation deal today will be available for 20 crore or may be 15 crore in three months, while the performance metrics continue to remain the same… Series A onwards, the speed at which startup valuations are changing right now is unprecedented. Flat rounds in the short term will be considered a success," the researchers added.
About 42% of the co-founders surveyed said that the Indian economy would recover from the pandemic between six months and a year.
"If it takes six months to contain the virus, then we will see damage to a few sectors and lower long-term growth trend. India is a saving economy with large domestic consumption. After 12 months, we should see the economic growth back with surges in demand," the researchers added.
Read: Coronavirus India LIVE Updates
What worries the entrepreneurs the most, according to the survey, are the declining revenues and cash blowout -- drying venture capital funds does not figure among their top worries.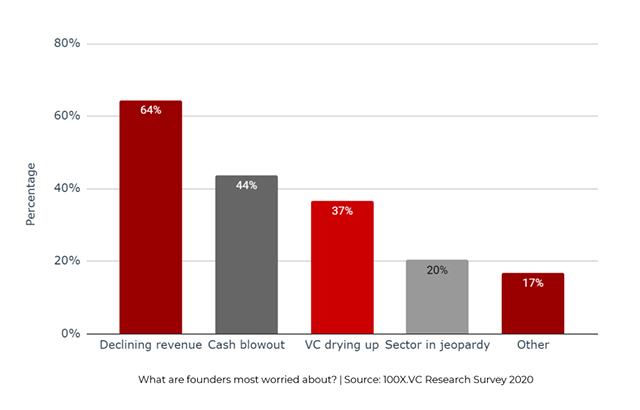 Additionally, 73% of founders surveyed said that they have either slowed down or frozen hiring plans for their companies.
"There are chances that 80% of the sectors in high-tough businesses will freeze hiring and go into cost optimisation on manpower resources," the researchers further added.
Sanjay Mehta founded 100X.VC is a sector-agnostic early stage investment platform that invests between Rs 25 lakh and Rs 1 crore in seed-stage startups through India Simple Agreement for Future Equity (i-SAFE) notes. The platform was launched in July last year with a mandate to back 100-odd startups every 12 months at the seed stage.
---