Deal Roundup: Fintech, edtech startups dominate funding deals across stages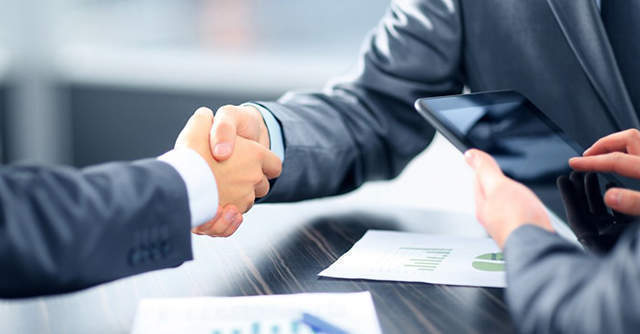 This week early stage investors steered back to the course set around the beginning of the year, focusing on fintech and ed-tech bets. Out of the 16 startups that raised capital, five were fintechs while three were ed-tech startups.
Overall, investors put $108 million to work across 10 out of the 16 startups funded this week (the value of six deals was undisclosed). This was marginally higher than the $86.5 million raised in the previous week.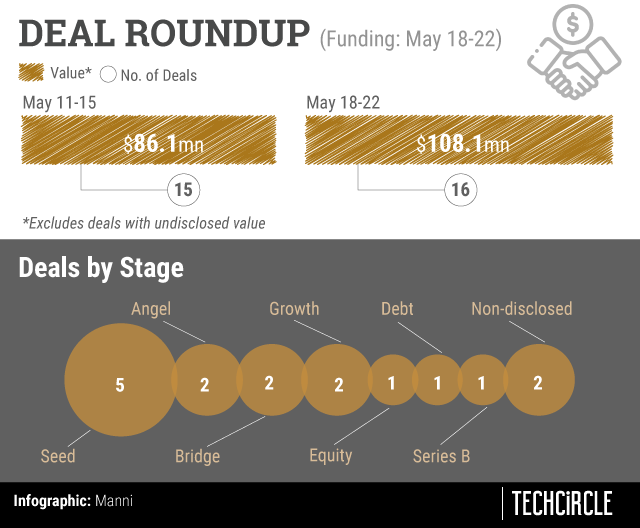 Digital book-keeping platform Khatabook and online lending platform Lendingkart topped the charts in terms of the amount of capital raised. The two companies together raised $102 million, accounting for nearly the entire capital raised this week.
While the two growth-stage startups made up the bulk of the fundraising, early-stage rounds —- angel funding and seed funding — made a comeback this week. Of the 16 deals this week, five were seed rounds while the angel and bridge categories accounted for two deals each.
Notably, a day after announcing laying off 1,100 employees and scaling down of some of its verticals, online food delivery unicorn Swiggy raised $1.8 million in an ongoing growth round from Samsung Ventures.

In a separate development earlier today, New York headquartered private equity firm KKR became the fifth investor in Reliance Industries-owned Jio Platforms with a $1.5 billion investment taking total infusion in the telecom arm to $10.37 billion over the last month.
Funding Deals
Khatabook: The fintech startup raised $60 million in a Series B funding round led by Facebook co-founder Eduardo Saverin's B Capital Group. New investors Rocketship.vc and Unilever Ventures participated in the round, along with returning investors Sequoia Capital India, partners of DST Global, Tencent Holdings, GGV Capital, RTP Global, Hummingbird Ventures and Falcon Edge Capital. Angel investors Kevin Weil, Alexander Will, Kunal Shah, Kunal Bahl and Rohit Bansal.
Lendingkart Technologies: The e-lending platform for micro, small and medium enterprises (MSMEs), raised $42.2 million in a growth round, dubbed as Series D. The infusion was led by returning investors Fullerton Financial Holdings, Bertelsmann India Investments, Sistema Asia Fund and India Quotient. The capital was raised across two tranches, with Rs 86.24 crore in the recently closed Series D2 round. An investment of Rs 212 crore as part of the round was reported in August 2019.

Swiggy: The Bengaluru headquartered food delivery unicorn raised $1.8 million in an ongoing growth funding round from the investment arm of the electronic device maker Samsung. It had first invested in Swiggy last month, when it co-led a $34 million Series I funding with Tencent Holdings and three other investors. The board also appointed Daniel Joram Brody, MD of Tencent Investment, as a non-executive director.
LetsTransport: Venture lender InnoVen Capital invested about $1.7 million as debt into Diptab Ventures, the parent company of the technology-enabled logistics marketplace for intra-city deliveries. The Bengaluru based startup will use the fresh capital to support its operational capabilities.
Bridge2Capital: Gurugram-based Xtracap Fintech India, which owns and operates the invoice financing platform, raised $1 million in an angel round from undisclosed investors. The company will increase the product offerings on its application and expand to new geographies using the fresh funds.

CreditMantri Finserve: Chennai-based online credit management startup raised $800,000 from its existing investors — venture capital firms IDG Ventures, Elevar Equity and impact investor Accion. Prior to this funding round, CreditMantri had raised $7.6 million in its Series B round of funding led by existing investors. Founded in 2012 by former Citibank executives Rajasundaram Sudarshan, Gowri Mukherjee and Ranjit Punja, CreditMantri is an online platform that helps customers make borrowing decisions.
Eggoz: NUPA Technologies-owned agri-tech startup raised $329,359 as part of its seed funding round from market research firm Tracxn Labs, US based equity crowdfunding platform Angellist, Tri-Deep Capital and founders of Letstransport, Pushkar Singh, Sudarshan Ravi, and Ankit Parasher with existing investors Narendra Sankar, Sunil Mishra, and Vishal Sharma.
Intelisa: Senselabs Technology-owned digital signage solutions provider raised seed funding worth $210,000 from CanQbate50. The investment marks the third by CanQbate50 since its launch in March 2020.

Ray: Quick Heal Technologies, a Pune-based antivirus software and data protection provider, invested $263,765 in the Singapore headquartered networking and wireless technology startup. Founded by Hemal Patel in 2019, Ray offers software-as-a-service (SaaS) and internet of things (IoT) based solutions for enterprises to improve their wireless technology using its flagship open-source operating system.
Illumnus: The ed-tech startups raised $100,000 in a seed funding from a group of Dubai-based undisclosed angel investors. Illumnus is a software-as-a-service (SaaS) platform for education institutes, and uses artificial intelligence and machine learning to simplify communication between students and teachers, as well as administrators and parents. It enables improved teaching techniques, and provides real-time monitoring and performance tracking services.
Winuall: The Bengaluru-based ed-tech startup raised an undisclosed amount in a seed funding round led by Ankit Bhati, co-founder of cab aggregator Ola, and Nitin Gupta, head of engineering at grocery delivery platform Milkbasket with Meena Kanwar Family Fund and other angel investors. The company will use the fresh capital to expand its business and curate more content for the coaching industry across India.

Vakilsearch: The online platform for legal, tax and compliance services operated by Chennai-based Uber9 Business Process Services, raised an undisclosed amount in a bridge funding round from Sujeet Kumar, co-founder of Udaan. Other investors who participated in the round are Kalaari Capital, Navneet Chugh -- chairman of Chugh LLP and Rajeev Luthra of Luthra and Luthra law firm.
Any Time Classes (ATC): The edtech platform raised an undisclosed amount from Mumbai Angels Network in a bridge funding round, dubbed as a 'pre-Series A' round. The Delhi-based startup will use 40% of the fresh capital for marketing purposes, set aside 30% for its team, invest 15% to improve its technology and allot the rest for capital expenditure.
Tring: The celebrity engagement platform raised an undisclosed amount in angel funding round from a clutch of investors. Investors including CEO of Flipkart, Kalyan Krishnamurthy; co-founder of Udaan, Sujeet Kumar; co-founder and CEO of Unacademy Gaurav Munjal; founder of VentureWorks India, Keshav Sanghi; co-founders of Unacademy Roman Saini and Hemesh Singh and co-founder of Commonfloor, Sumit Jain, participated in the round.
Riskcovry: Mumbai-based UMBO insurance-technology startup secured an undisclosed amount of funding in a bridge round, dubbed as pre-Series A, led by Bharat Inclusion Seed Fund.
Venture Capital firms Varanium Capital and Better Capital also participated in the round.The startup was founded in 2018 by Suvendu Prusty, Sorabh Bhandari, Chiranth Patil and Vidya Sridharan.
Voicezen: Bharti Airtel bought a 10% stake in conversational artificial intelligence technologies provider Voicezen in an all-cash transaction. Voicezen provides solutions that leverage machine learning, AI, speech to text and voice technologies to offer real time analytics to help brands serve customers.
Venture Capital Funds
iSeed: Utsav Somani, the India head of San Francisco-based investment crowdfunding platform AngelList, launched the micro venture capital fund. The India-focussed fund aims to invest in 30 early-stage technology companies with an average ticket size of $150,000. The fund is operated via AngelList Back Office, which helps full-time startup founders run venture funds by managing services such as compliance and administration. iSeed is a personal venture and not affiliated to AngelList.
Exfinity Ventures: The Bengaluru based venture capital firm, founded by former IT services executives, raised $10.5 million as part of the first close of its third fund. The fund, dubbed Exfinity Technology Fund 3, has a final target corpus of $65.8 million and expects to exceed the target at final close. The final close of the fund, V Balakrishnan, founder, general partner and chairman at the firm, said, is expected in the next 18-24 months instead of the planned 12-18 months.
---