Explained: Why Signal is the new popular kid on the messaging platforms block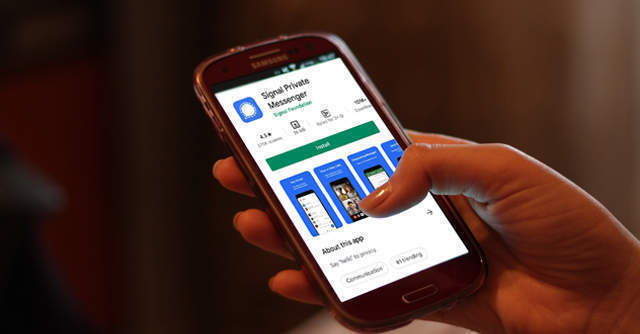 The recent update to WhatsApp's privacy laws has sparked off a worldwide conversation about the need for alternative platforms, with Signal and Telegram emerging as clear winners among Twitter users.
Joining the conversation closer home were Indian startup executives, such as PhonePe CEO Sameer Nigam, Cred founder Kunal Shah and Hike CEO Kavin Bharti Mittal.
This time is diff. Product wise, Signal has arrived!

Moved 1000+ @PhonePe-rs to Signal. Recreated all my work groups.
Moved my family groups. Seamlessly.

Zero switching cost. Just retain ur WA acct (like ur old 90s Hotmail account) to reference old threads...

— Sameer.Nigam (@_sameernigam) January 11, 2021
India won't have its own messenger.

Global network effects are too strong (unless India bans Western companies)@telegram UX, Groups better than @signalapp

Both are very good. As entities they have the right incentives (more aligned with consumers) unlike FB products.

— Kavin Bharti Mittal (@kavinbm) January 10, 2021
London headquartered Telegram, founded in 2013, currently has a user base of 500 million, compared to WhatsApp's 2 billion users worldwide.

But also in the running is California-based Signal, which was launched in 2014, with just 10 million downloads on Google Play and 12,000 on the App Store. Wired reported that 40% of people used Signal on Apple devices.
Signal, which broke into the top 10 downloaded free apps in India on Google Play on January 10, said it is witnessing a "record number of downloads across the world" due to WhatsApp's data sharing caveat with Facebook. However, the unprecedented increase in downloads has also resulted in delay of verification codes that allow new users on the platform.
Verification codes are currently delayed across several providers because so many new people are trying to join Signal right now (we can barely register our excitement). We are working with carriers to resolve this as quickly as possible. Hang in there.

— Signal (@signalapp) January 7, 2021
So, what sets Signal, which has received endorsements from the likes of Twitter CEO Jack Dorsey, Tesla CEO Elon Musk and American whistleblower Edward Snowden, apart? Let's take a look:

The who, when and why of Signal
In 2013, cryptographer and coder Moxie Marlinspike started Open Whisper Systems (OWS), an open source protocol, to ensure encryption of messages. This protocol was used to set up an OWS messaging platform -- the Signal app.
In 2016, WhatsApp and Facebook Messenger partnered with OWS to adopt their open source protocol to ensure end-to-end encryption of messages.

OWS traces its software to mobile security software company Whisper Systems, which was acquired by Twitter in 2011. Twitter made some of the software available under open source licence, which has been upgraded by the developer community since.
Who funds Signal? What's the WhatsApp connection?
Relying on two-three employees and contributions from developers to update the protocol, Signal officially registered as a non-profit -- the Signal Foundation -- in 2018. Prior to that, the company did not have enough employees to register and manage the overheads of running a non-profit, and thus worked with the Freedom of The Press Foundation as its fiscal sponsor.

The development coincided with Brian Acton, co-founder of WhatsApp, joining Signal Foundation as executive chairman and making a donation of $50 million to the non-profit. Acton quit Facebook in 2017 over disagreements with CEO Mark Zuckerberg over the latter's decision to monetise the chat app with targeted advertisement.
At the time, OWS creator Marlinspike wrote in a blog post: "Over the lifetime of the project, there have only been an average of 2.3 full-time software developers, and the entire Signal team has never been more than 7 people."
He added: "Signal has never taken VC (venture capital) funding or sought investment, because we felt that putting profit first would be incompatible with building a sustainable project that put users first. As a consequence, Signal has sometimes suffered from our lack of resources or capacity in the short term, but we've always felt those values would lead to the best possible experience in the long term."

Does Signal have all the features that WhatsApp does?
Signal introduced voice and video call features to its messaging app for desktop and iPad users as well as mobile users. The platform has, since December 2020, allowed users to make encrypted group calls. Users can move groups from a different chat app to Signal using a link or get users on other services to join a group using a QR code. Signal claims to have no records on group memberships, titles, avatars or group attributes of users on private groups.
But is WhatsApp really as evil as it's being made out to be?

While India Inc wants to move out of WhatsApp lock, stock and barrel, the convenience of WhatsApp with the reach and convenience with the introduction of in-app payment through UPI is hard to beat.
While new to WhatsApp, Facebook-owned Instagram is known to share user data with the parent entity for targeted ads. With WhatsApp's plans to monetise WhatsApp for Business in India and the introduction of the in-app shopping feature, user experience and data are bound to be tossed around the Facebook group companies.
---