Who'd have thought a health crisis would propel epharmacy to unprecedented heights? Everyone, apparently.
The relatively small vertical, worth about Rs 4,000 crore and making up just 3% of the overall pharma market, has in the past few months attracted some of the largest conglomerates, such as Reliance and Tata, as well as ecommerce giant Amazon.
If there's one industry that Covid-19 boosted overnight, it's epharma (also edtech, but we've already written about that). Altered consumer behaviour, buoyed by the government declaring it as an essential service during lockdown, led online pharmacies to grow more than two-fold during the period.
The pandemic-led boost is expected to last in the near-term.
Post lockdown, about 9 million households in India used epharma services, a massive increase from the pre-lockdown figure of 3.5 million, research and consulting firm Frost & Sullivan said in a report. The firm estimates the number to grow to 70 million by 2025.
In its 2018 white paper, Frost & Sullivan had estimated the online pharmacy market to be worth around $512 million and predicted it to grow at a CAGR of 63% to reach $3.6 billion by 2022.
"Most epharma firms are expecting somewhere between 20-35% growth in the next couple of years. Businesses will double in two-three years time. We are talking about just Rs 3,500 crore out of a Rs 1.3 lakh crore of the total pharmacy retail distribution market. The potential is huge," Sujay Shetty, partner and leader of health industries at PwC India, said.
While the segment currently serves only those with chronic conditions, a market expansion to address urgent, acute and post treatment care is also expected.
PharmEasy V Goliaths
But before turning into this massive opportunity, the sector only had a handful of early-stage startups that were slowly and steadily building their businesses around home delivery of medicines and healthcare services.
Among them was PharmEasy, which is now one of the players taking on the deep-pocketed bigwigs, namely RIL that acquired Netmeds, Tata Group that is reportedly looking to acquire a majority stake in 1mg, and of course, Amazon.
Founded in 2014 by Dharmil Sheth, who holds an MBA from IMT Ghaziabad, and Dhaval Shah, a doctor with an MBA from XLRI Jamshedpur, PharmEasy upped its game in the past few months, acquiring rival Medlife and creating a $1 billion entity -- the first unicorn in the epharmacy space.
Medlife made two acquisitions in 2019 – pharmacy app operator Myra Medicines in May, and digital healthcare platform and home diagnostics services company MedLabz in January.
PharmEasy picked up all of these subsidiaries as well, bringing them together under API Holdings. The umbrella unit carries out wholesale deals and distribution of drugs, transportation and delivery services, ecommerce and telemedicine platform operations, directly or through its subsidiaries.
Ecommerce or online drug delivery and offline distribution are the mainstays of PharmEasy's business. Its distribution arm, the second largest after Apollo Hospital-backed pharma distributor Keimed, is near profitable, and the retail business is doing phenomenally well, a person aware of the company's operations told TechCircle on the condition of anonymity.
The company is also expanding its scope of online operations to tap into adjacent opportunities such as doctor appointments, telemedicine and diagnostics, the aforementioned person said.
Riding on a discount-driven strategy to acquire customers, the Mumbai-based startup today covers about 25,000 pin codes across the country.
In FY19, the company reported an over three-fold increase in its consolidated operating revenue to Rs 358.2 crore, compared to Rs 111.4 crore in the previous year. Its expenses grew year-on-year to Rs 612.6 crore from Rs 215.7 crore, while its consolidated losses for the reported period widened year-on-year to Rs 243.3 crore from Rs 100.5 crore.
The company is yet to file consolidated financials for FY20.
Separately, Medlife recorded Rs 363.3 crore as operating revenue in FY19 against a loss of Rs 403.6 crore for the same period.
In comparison, Netmeds witnessed an operating revenue of Rs 19.6 crore, against a loss of Rs 176 crore in FY19. For the same period, 1mg registered an operating revenue of Rs 240 crore, against a loss of Rs 170 crore.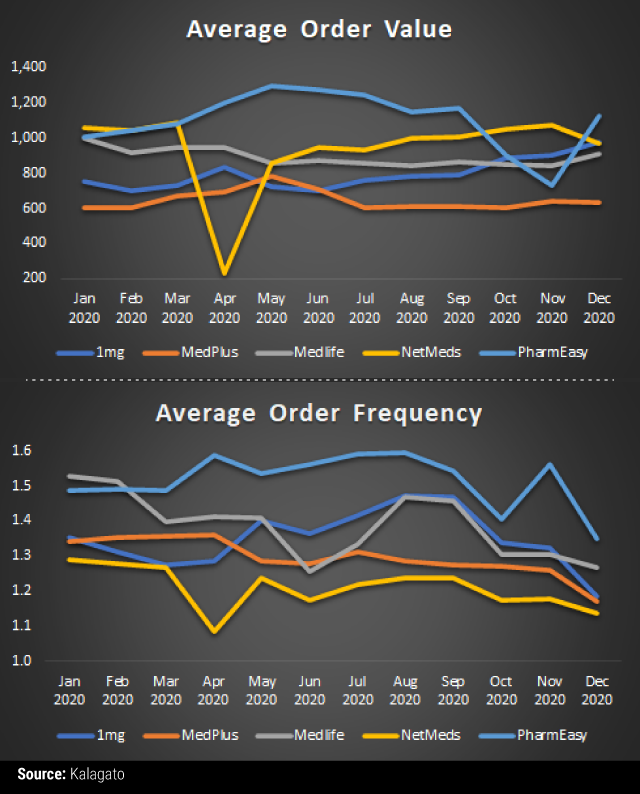 The merged entity of PharmEasy and Medlife has an edge over its peers.
According to internet research firm KalaGato, PharmEasy alone has a consistent lead in the market, servicing twice as many customers than its closest competitor. Its customers, on an average, order 12% more often than 1mg's customers. In terms of average order values or ticket size, PharmEasy enjoys a ~40% premium against 1mg, the data showed. With over 40% of market share by value, PharmEasy leads the space, with Medlife holding about 25%.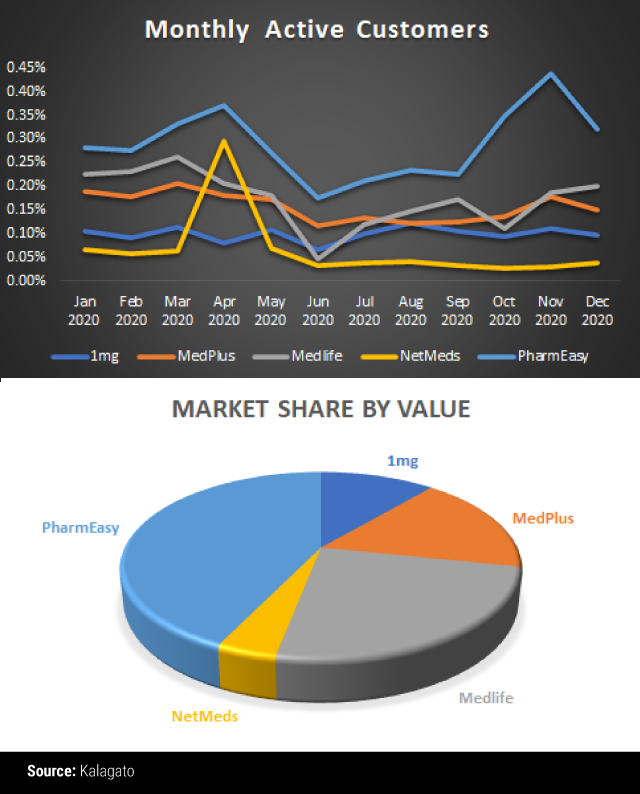 "While two of the country's largest conglomerates battle it out, PharmEasy has currently moved to the forefront, with the highest share of transacting customers, as well as frequency of servicing them. Possibly owing to their strategy of focusing on chronic patients, they are also able to maintain a higher ticket size than the market, giving them a distinct edge in market shares," Rhituparna Bhattacharya, market research lead at KalaGato, said.
Behind its significant market share is a strong supply chain network for distribution and online delivery. The company has also created a strong compliance foundation to navigate through the regulatory labyrinth of online drug delivery.
While it's clear of all of its peers, can PharmEasy find enough financial muscle to wrestle with the wealthy corporates?
A person privy to the company's fundraising activities, who wished to remain anonymous, told TechCircle that the company is in the final stages of raising up to $300 million from private equity firm TPG Growth, and South African technology and media conglomerate Naspers.
The former will infuse about $125 million, while the rest will come from Naspers, he said, adding that the round will value the startup at $1.2 billion. An additional $50 million secondary component will buy out a few early investors, he said.
The Competition Commission of India (CCI) approved TPG's investment proposal in December and the money is expected to hit PharmEasy's account in the coming weeks, the aforementioned person said.
PharmEasy is currently backed by Temasek Holdings; Fundamentum Advisors, which is backed by Infosys co-founder Nandan Nilekani and Helion Ventures co-founder Sanjeev Aggarwal; Eight Roads Ventures India; F-Prime Capital; Avendus Capital; Bessemer Venture Partners and San Francisco-based hedge fund Think Investments.
"Look at the names that are backing PharmEasy, they are global, deep-pocketed venture capital/private equity houses. They have clearly taken a long view of its business prospects, they are convinced that the company will have a strong vector of growth. PharmEasy is on a strong path of growth and the backing of these players can help them maintain its market leadership," a health-tech entrepreneur, who wished to remain anonymous, told TechCircle.
How will the new entrants affect PharmEasy's dominance?
Jio's extensive distribution network and Tata's expertise in building successful omni-channel brands can help Netmeds and 1mg.
Reliance is integrating Netmeds into its JioMart ecosystem and that've a vast environment of countless products and offerings. It has to be seen if Reliance will have the expertise and focus to build each of these verticals on a single platform.
On the other hand, building businesses with large negative burns may be unchartered territory for Tata, and the company may take time to internalise and understand how the business works.
Amazon is a long-term player and has not moved too quickly in its epharma operations in India.
PharmEasy, backed by a strong set of PE investors who have built successful online companies from scratch all the way to IPO, has a unique opportunity to build on its foundation and take on these goliaths.
The arrival of the large players is expected to act as a harbinger of category growth.
"Selling drugs online is a difficult business. There are several issues with licences and regulations. The competition is with the offline market. If you have leverage with recognition, you can use it against competition. When big names come, this risk factor may get eliminated, regulatory hurdles may go away and it's a step in the right direction," Andrey Terebenin, managing partner at Singapore-based Sistema Asia Capital, said. Sistema, an investor in Netmeds, sold its stake in the company during the startup's acquisition.
While discounting helps players in the sector onboard and keep customers, it may as well be the reason for their failure. Discounts, according to an EY report, surpass margins in the chain. Unless they are brought down to a reasonable scale, profitability will remain a distant dream for epharmacy startups.
Edited by Rashmi Ramesh
---