With the growth of smartphone and internet penetration in India, the demand for OTT video content has also surged, as per market tracker RedSeer Consulting.
According to the company's analysis, OTT content consumption in India, a country of 1.4 billion people, grew 13% from 181 billion minutes in January 2020 to 204 billion minutes in January 2021. Movie and original consumption witnessed an increase of 20% and 50%, respectively, the report said.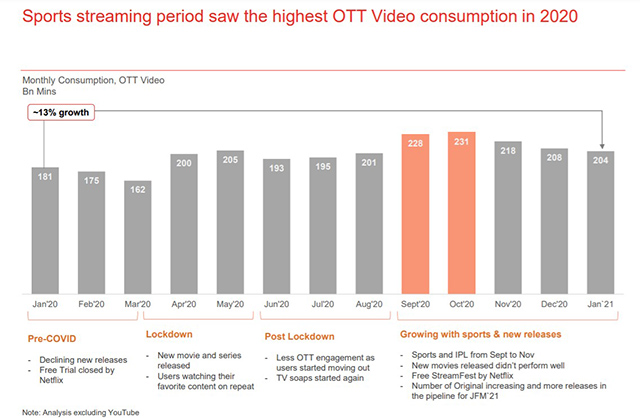 Monthly OTT video consumption in billion minutes | Credit: RedSeer
The increase varied every month last year, but particularly peaked in September, October and November, when users streamed a record 228 billion, 231 billion, 218 billion minutes of content, respectively.
The significant increase in engagement during these three months could be attributed to the live streaming of sports tournaments and the Indian Premier League, as well as several new movie and original releases across platforms.
April and May also witnessed a spike in India as the country went into a lockdown and people binged on new and old content at home. During this period, the highest consumption was recorded in May at 205 billion minutes, the report said, adding that numbers went down in the subsequent three months as the lockdown lifted.
On whole, India's OTT video market has grown on the back of increased investment from international and homegrown platforms on producing more quality originals, the report said.
This has received further support with the rise of smaller OTT players focusing on the regional market, a higher number of mainstream movie Bollywood and South Indian movie releases, and increased dubbing of international movies.
Netflix with highest NPS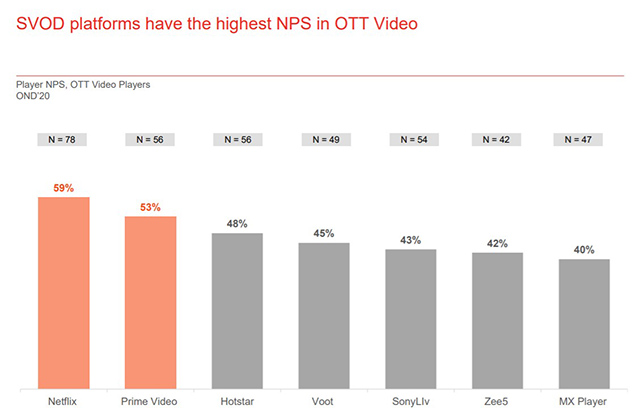 Net promoter score comparison of OTT platforms | Credit: RedSeer
Among platforms offering OTT content, Netflix came out on the top with the highest net promoter score (NPS) of 59%, followed by Amazon Prime Video (53%), Disney+ Hotstar (48%), Voot (45%), SonyLiv (43%), and Zee5 (42%).
NPS measures the willingness of customers to recommend a company's products or services to others. RedSeer measured the index for the report by surveying a different number of customers.
Read more: Netflix, Amazon Prime Video among 15 OTT players to adopt self regulation code
Notably, just a couple of weeks ago, Netflix reported that its global subscriber base surpassed 200 million, with 8.5 million paying members coming in during the quarter that ended December 2020. In this growth, the Asia Pacific region, which includes India, was the second-largest contributor -- accounting for 23.5% of the additions.
---