BigBasket pulls up bootstrapped startup for use of 'basket' in brand name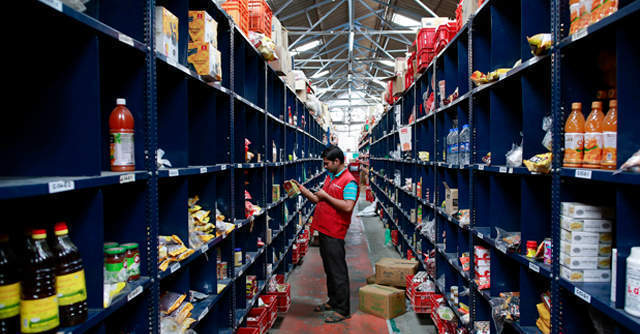 Egrocer unicorn BigBasket has issued a cease and desist notice to Coimbatore-based online grocery delivery platform Daily Basket over the use of 'basket' in its brand and the design of its logo, mobile app and website.
Bengaluru headquartered BigBasket accused the bootstrapped startup of operating an ecommerce business and offering identical products and services through a conflicting and similar domain name, copying the layout and getup of its website and mobile app, and creating an impression that Daily Basket is associated with BigBasket, the legal notice showed.
"Your use of the word 'daily' along with 'basket' does not make your name distinctive, and our client strongly believes that you have dishonestly adopted the name and mark "dailybasket" to make your name and mark deceptively and/or confusingly similar to our client's brand BigBasket. You have deliberately copied the layout and getup of our client's website (with insignificant minor changes) to mischievously associate it with our client's brand BigBasket," Indus Law, the legal firm representing BigBasket, said in its notice.

It accused the startup of malafidely trying to create an impression that it is associated with BigBasket for Coimbatore with its mobile App listed under name "Daily Basket Coimbatore - Best grocery delivery app". BigBasket also opposed Daily Basket's promotions on third-party websites such as Facebook and Twitter.
BigBasket alleged that these actions constitute infringement of its trademark rights as well as common law rights in trade dress under the Trade Marks Act, 1999. It has asked the startup to immediately discontinue the use of domain dailybasket.com or any other website, mobile application, or any other identical domain containing "basket" as its prominent feature.
The company demanded Daily Basket to cease and desist from using a logo or marketing their products with the mention of the word "basket; remove all references of "dailybasket" from third-party websites and transfer the domain "dailybasket.com" to BigBasket free of cost.

The notice also demanded Daily Basket pay BigBasket Rs 20 lakh to cover the legal notice fee.
Launched in August of 2020 by Ramesh Kumar and Ajith Kumar, Daily Basket plans to set up a string of mini supermarkets across Coimbatore to leverage them as delivery hubs for its online delivery business. It operates one warehouse and looks to open its first mini store on February 25.
BigBasket has offered a 15-day compliance period to Daily Basket, after which it will initiate legal actions, including civil and criminal, against the two-person startup, the notice said.

Daily Basket has denied BigBasket's allegations and accused it of using corporate bullying tactics to eliminate the startup from the market.
To make its case, the company has rolled out a website -- bbisabully.com. The website compares all of its design features -- including logo, website, mobile application, product listing and Play Store details -- against BigBasket's products to establish that there is no merit to BigBasket's infringement claims.
"Though we have a word 'basket' in our brand and we do deliver online groceries, it doesn't mean we copied their trademarks or unethically copied their website and apps. We never misuse BigBasket's brand in any way as they claimed in the cease and desist letter. That's a blatant lie," DailyBasket founder Ramesh wrote.

BigBasket and Daily Basket have not responded to TechCircle's request for comments yet.
---