Logistics aggregator Cogos to scale EV fleet with 2500 vehicles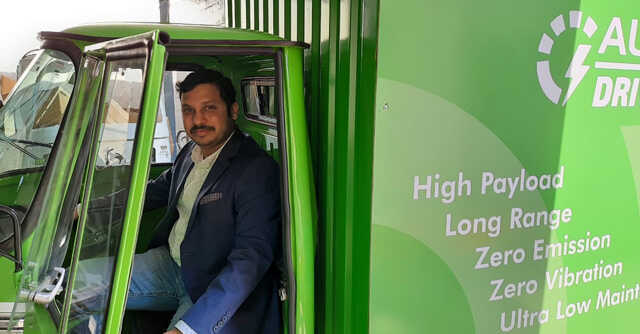 In an attempt to further its sustainability agenda, intra-city logistics aggregator Cogos Technologies has announced plans to add 2,500 electric vehicles to its fleet in Bengaluru, Hyderabad, Delhi, Gujarat, Maharashtra and Tamil Nadu.
The move, Cogos said on Wednesday, will help the company optimize costs and reduce its carbon footprint by a significant margin.
It expects to complete the EV roll out in a phased manner over the next 24 months.

Once the entire fleet is operational and running at full capacity, it expects to reduce carbon dioxide emissions by 15,000 tonnes a year, Cogos said.
"It is important for us, as a logistics company, to focus not just on efficiency and cost, but also on sustainability. With this fleet augmentation of 2500 EVs, we are on track to achieve as much as 30 percent of our revenues from green technologies by 2023," Prasad Sreeram, co-founder and CEO at Cogos, said while commenting on the move.
The company has partnered with OEMs such as Altigreen, Mahindra & Mahindra, and Piaggio to drive its sustainability change and is already working with them to add 4-wheeler EVs with a payload capacity of 1 tonne.

Currently, the company largely operates with three-wheeler commercial vehicles with a capacity of 500 kgs.
These EVs will be used across sectors, Cogos said, noting that it has already signed agreements to deploy 500+ vehicles for a leading e-commerce enterprise and another 300+ with food, FMCG and mobility companies.
To strengthen the EV ecosystem further, Cogos evangelizes the benefits of electric vehicles to finance providers and potential owners/operators. Then, it enters into tripartite agreements with these parties to ensure better financing of EV to the vehicle partners.

"We want to give customers a significant edge in efficient and responsible distribution and last-mile delivery solutions," Sreeram added. "EV is the future of mobility and city logistics have higher operating costs and lower travelling distances, hence are best suited for EV adoption for the logistics sector."
---