Bewakoof, a self-expression brand anchors a good pandemic sail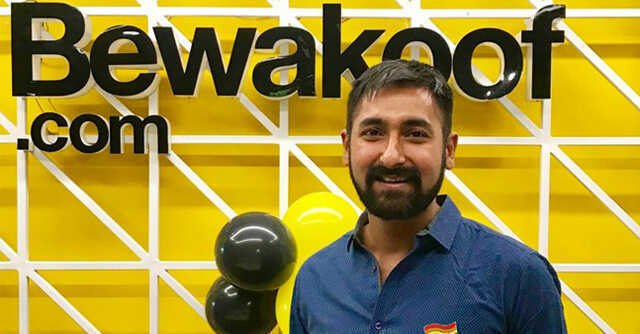 While the economy in general suffered terribly during the pandemic, the D2C (direct-to-consumer) segment gained much ground in India.
A major behavioural shift in shopping trends led to the sector witnessing a tremendous growth in categories ranging grocery, meat, electronics, fashion and many more.
In fashion for youth, Bewakoof.com, a D2C online apparel company, has been a testament to this trend shift.

The company has been registering steady growth in the last few months. Earlier this week the company raised $8 million (Rs 60 crore) in its pre-Series B round of funding led by InvestCorp.
The company, which has so far raised Rs 170 crore, aims to treble its sales to Rs 2,000 crore by 2025.
"Bewakoof's ability to catch trends ahead of time and execute contemporary designs aligned with end customer's preferences, make it stand out from the other players in the segment," said Vikram Gupta, founder and managing partner at IvyCap Ventures.

IvyCap is an investor in the company.
He further added, "The ability to connect with its target segment at various levels has enabled the brand to have a loyal customer base, which in turn acts as a moat for the business."
Founded in 2012 by then 21-year-old IIT Bombay graduates Prabhkiran Singh and Siddharth Munot, Bewakoof makes fun and expressive merchandises for the millennials.

While studying at IIT, the duo launched the company with an initial investment of Rs 30,000.
The brand was built on social media, with content marketing being a key growth strategy. Its philosophy is to add light-heartedness to people's life through its self-expressive products and fun shopping experiences.
"We wanted to create a brand, which was inspirational and had a purpose. We just didn't want to create another inspirational brand, which was more or less the playbook back then," Singh told TechCircle.

He added, "We were quite young when we started the brand and felt that there was no one in the lifestyle segment targeting the youth. It's only that people have become obsessed with millennials and Gen Z."
Bewakoof claims to sell 20,000 units of apparel and accessories a day and has a customer base of over 10 million. It sells T-shirts, denim, jackets, mobile covers, backpacks, etc., on its platform and has recently entered ethnic and sleepwear categories.
Bewakoof also plans to launch new categories like activewear and innerwear in addition to scaling up newly launched beauty brand Cosmos. Under the Cosmos brand, it has products ranging from day and night creams to aftershave, bath salts and serums.

The company runs a subscription plan called Tribe, which guarantees extra saving for each member and maintains the entire data and incentive structure around that.
The subscription is priced at Rs 299 a year. It's closing in on 100,000 subscribers who, it claims, are driving 25% of its overall business.
Since the beginning, the brand wanted to produce merchandises for the mass middle class and not just for the metro people. But since most of their audience was not online when they started out, they could not price their products lower.

"I think we became more like a pocket friendly when Jio happened. That's when we switched gears. When we first started, it was a premium brand. That's how we positioned it and that those used to be the margins on which we worked on and we catered to that kind of audience.
But when Jio happened, that's where it was a big shift where we wanted to make it affordable. And now that the audience had come online, we saw massive growth from 2017," said Singh.
Since then, the company claims to be growing every month.
"In 2012, the whole ecosystem doubted us because it was a very big thing to be able to create Rs100-crore consumer brand. And that's what investors also told us when we went out for funding in 2013-14.
No one was ready to fund us. And when we crossed Rs100 crore in India back in 2017, we were the first D2C brand achieving the feat. Now we see Rs1000 crore happening in next two years. And then in five years, we're targeting to touch Rs 2000 crore online only," Singh added.
At a PAT (profit after tax) level, Bewakoof is targeting to be profitable in the next two-three years.
Pandemic & competition
"The fashion industry witnessed a downfall in the consumption during the pandemic-induced lockdowns and unlike many other D2C players in the grocery and essential segment, Bewakoof did feel the heat," said Singh.
However, the company claims to have eventually managed its pre-pandemic level growth which stood at 25%.
Talking about competition with the e-commerce marketplace, Singh said that Bewakoof is into a business of enabling expressions which is difficult for a marketplace or retail to have in one store.
"We are a brand which is all about expression and trending merchandise. And to be able to have so many expressions under one brand, you need to create supply chain with which you can manage so many expressions, which is very quick to market. And that's what the other ecommerce companies don't have. Ecommerce companies don't have the specialization to be able to give what we're giving," said Singh.
Operations
Bewkoof's total strength of 250 is divided between two locations – the technology and business teams are in Bengaluru, and the manufacturing and fulfilment batch are in Mumbai.
The company, which used to manufacture everything in-house before the pandemic, has shifted 50% of its manufacturing to outsource so that they can have good risk diversification.
Singh believes that the pandemic has made their business more regional, as only a few locations were operational at one point in time.
"When the manufacturing was shut in Mumbai, it was open in Tiruppur. So that's where the pandemic has made our business regional both on the supply side. So now, we have supplies coming from almost every state where manufacturing happens from Bengal to South," said Singh.
Strategic Pivots
Cross-platform: Bewakoof recently launched itself on some marketplaces too. It went live on Myntra some months back. But it claims that 95% of its sales happen through its own platform. A couple of months back, it went live with Flipkart, Amazon, Nykaa and Tata CliQ.
The company also plans to look at international marketplaces going ahead.
Retail: Bewakoof is not looking to go omni-channel anytime soon. It's confident of growing the current brand sales of Rs300 crore to Rs1,000 crore through digital distribution, with the majority coming from the Bewakoof shopping app.
Social Media: As the company is witnessing a huge traction from tier II and III cities, it has started to do content in regional languages (Hindi, Marathi, Bengali, Telugu and Gujarati) across the range of the products.
Bewakoof has started celebrity engagements for promoting the brand. It recently launched promotional campaigns with Bollywood actors Rajkummar Rao and Sanya Malhotra.
The company has 6 million followers across its social media platforms where they engage with customers, content, and celebrity engagements, etc.
Technology
On the technology side, the company has multiple pieces – the first piece is gamification of products. Bewakoof has a core technology DNA, for which it has been writing its own code since 2012.
"We haven't built it out on Shopify or WooCommerce of the world. We have our own technology, entirely built from scratch and that opens a lot of areas to innovate. So in gamification, we are coming out with features which would be daily speak someone coming daily on the app is getting pointers, which they can redeem for shopping. It could be scratch cards, like how Google Pay did," said Singh.
The company also launched a referral programme, which is aimed at enabling group buying.
The second area is personalization and customization of products. This feature will let the users create their own design and put it out on the product.
The third big thing for the company has been video commerce, which is aimed at making shopping more convenient and fun.
Bewakoof has also created a feature called B shots, which is a discovery-led content that users can see for fun and entertainment and can also buy if they like a product.
Marketing spends
The company spends around 10-12% of its earnings on marketing. Lately it has been spending on brand, celebrity collaborations. They believe that the repeat customers will come if there is a good level of loyalty and that will come on the back of quality.
---