Unmanned aerial vehicles (UAV), also referred to as drones, are aircraft that do not require a human pilot. The drone industry in India is still in its infancy stage, but it is expected to grow and evolve over the next few years. Likewise, using drones for logistics and transportation will also increase as it saves distribution costs, increases delivery speed, reaches the areas that are difficult to access, reduces urban traffic and carbon emissions, and operates 24 hours without shifts.
At present, drones are widely used in military and commercial applications such as surveillance, crop protection, construction project surveying, healthcare, e-commerce delivery, and more. While unveiling the National Logistics Policy on September 17, 2022, Prime Minister Narendra Modi said, "Drone technology will emerge as an important aspect of the transport and logistics sector, especially for remote areas, in India."
Despite the logistical challenges in the country (difficult geographical terrains, higher population density, poor infrastructure) drones in India have already penetrated the healthcare, agriculture, eCommerce, medicine, and grocery delivery sectors and more. This confirms the foundation work has already been done in the sector. And just with the advancement in a few more areas, drones will be soon added to the official list of available logistics modes in our country.
Advance technology integration and skilled manpower
Businesses thrive on excellence. Drone logistics particularly is pretty dependent on skilled pilots and technology solutions to plan and execute deliveries. Short-range drones within Visual Line of Sight (VLOS), require relatively less complex technology but have less power and they cover shorter distances. Long-range drones (beyond VLOS) need to have skilled pilots and strong drone technology to provide safe deliveries. Intelligent drone technology solutions will be able to consolidate the orders well, define route plans with approvals and permissions, and track and manage the whole trip from pickup to delivery. Many drone manufacturers and Tech companies today have already started giving advanced training to their employees to make sure they are of service when the time comes for managing drone deliveries.
Integration with other logistics modes and segments
In India as well as globally, various drone pilot projects are run to complete deliveries of food, medicines, grocery, etc. to the end customers(last mile), especially in difficult geographical terrains. Even media houses have started using drones for newspaper delivery in the country.
However, drones being the fastest of the delivery modes can also be used to replenish or relocate stocks of fast-moving consumer goods in the Warehouses/ Distribution Centres as per the rise and fall of demand. Drone technology solutions with seamless integration with multimodal deliveries can help in planning the complete logistics process with end-to-end visibility and control. Thus, there is an opportunity to tap and explore this massive potential of drone deliveries in the logistics industry.
Price: The deciding factor for drone delivery
Surface transportation, in India, has a major share in the logistics sector of our country. The cost of this mode of transportation is directly proportional to fuel price, manpower availability, Government norms and regulations, etc. Drones similar to other logistics modes also require an initial investment in setup and installation. But the end result of faster and more efficient deliveries here makes all the difference. Especially in medical conditions where stakes are high for getting one vaccine or medicine on time, drone deliveries will bring in a much-needed revolution. Thus, the commercial acceptability of drone deliveries will be dependent on the applicable industry & products for delivery. But drones with the advantages of faster, sustainable, and efficient logistics will definitely get an upper hand compared to other logistics modes of delivery.
Support from Government policies and regulations
Govt of India has been taking various initiatives to encourage drone delivery experiments in the country. Drone Regulations 3.0 implemented in August 2021 gave a positive impetus to logistics professionals in the field by drastically reducing the permissions needed from 25 to 5 and types of fees from 72 to just 5. Such positive measures have encouraged Indian as well as global drone companies to invest and conduct trial runs for deliveries. This has also given a positive push to logistics technology companies to develop high-end, competent solutions which can be well integrated with drones, thus boosting operational and cost efficiency of the logistics sector in the country,
From being defense equipment to a carrier of useful products for everyday life, drones have already come a long way in the Indian logistics industry. With the strong aspiration to introduce innovative solutions to bring about increased efficiency and organization in the logistics sector, India will undoubtedly prepare itself to incorporate drone deliveries with utmost safety and efficiency in the system. Indian logistics companies, both manufacturers and technology service providers are now in the right place to capitalize on this opportunity and contribute to the burgeoning logistics sector in the country.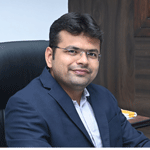 Sanket Sheth
---
Sanket Sheth is the Founder and Managing Director of Elixia Tech Solutions Limited.
---