Car brands bank on the metaverse at Auto Expo 2023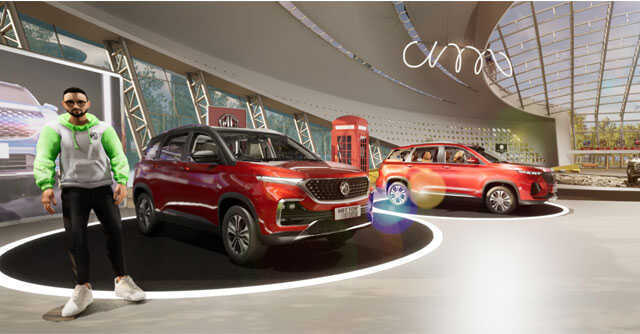 After ending 2022 in a lull phase, the metaverse catchphrase went off to a strong start, at the 2023 Auto Expo. At the event, which opened early-access doors on Wednesday, companies such as Maruti Suzuki, Hyundai Motors and MG Motors showcased their take on metaverse experiences — each of them also creating 'digital twins' of their own Auto Expo 2023 show floors.
On Tuesday, Maruti Suzuki announced 'Expoverse', its third attempt at creating a metaverse environment for its users after creating 'Nexa-verse' in July last year, and 'Arena-verse' in December. The first two metaverse experiences for Maruti Suzuki were largely akin to virtual car colour and configuration simulators, and were made available across the company's showrooms.
While Expoverse will also be available along with virtual reality headsets at 1,100 Maruti Suzuki dealerships across India, it is also accessible via a web link that allows users to access the company's metaverse experience on a web browser.

Korea-headquartered Hyundai Motors, which is India's second largest car company by market share, also showcased its own metaverse experience of its 2023 Auto Expo show floor. Built in partnership with gamified platform Roblox (which has so far been used by brands such as Nike and Gucci as well), Hyundai's virtual rendition of the 2023 Auto Expo was announced on January 5, and is a continuation of the company's 'Hyundai Mobility Adventure' shared virtual space on Roblox, which it first announced back in September 2021.
MG Motors, meanwhile, used the 2023 Auto Expo to finally launch its MGverse — a platform that it has built in partnership with metaverse environment platform, Metadome.
While the 2023 Auto Expo is one part of MG's metaverse experience, the company's overall experience includes a virtual test drive, interior and exterior configurators, and the prospect of converting user interest to sales from the MGverse platform.

"We've worked with Metadome, and used Unreal Engine to create the metaverse experience. The platform has plenty of scope to drive commerce to us, because the journey of a customer through the platform is significantly more engaging," Gaurav Gupta, chief operating officer (COO) of MG Motors India, told Mint.
Gupta added that while the buzz around metaverse experiences have slowed down, the company had been working on the platform for a long time. "If you look at the MG ZS electric vehicle, we started working on it back in 2017, back when the entire EV market of India had fewer than 2,000 cars. We're looking at this initiative as an early mover in the segment, and we'll keep working on it as the technologies progress — to see how it works," Gupta said.
However, the executive did not offer a figure in terms of how much investments has MG Motors India made towards building the platform.

To be sure, metaverse experiences were seeing steady growth through the first half of 2022, until economic uncertainties brought discretionary spends such as creating metaverse experiences under the scanner.
For instance, Rajat Ojha, chief executive of homegrown metaverse platform Partynite, told Mint that the company is seeing "more than 100x higher dollar revenue than the start of CY22, but also new queries from clients have dropped by 5x."
"This has been the trend this year, where only customers that have specific, long-term metaverse projects in mind are seeking to pursue them. This has led to us getting fewer new projects, but the ticket size of these projects are significantly larger than before," Ojha said.

For reference, over the past four quarters, the company has signed deals with US-based automaker Dodge, as well as "a leading global bank and one of the big four consultancies," among others.
"There is interest from auto companies, and we've been in conversation with many brands to build metaverse experiences for them. From this year, we can expect commerce to play a bigger role in metaverse projects as well," Ojha added.
A December 12 report by consultancy firm Deloitte said that retail and e-commerce, and consumer durables, were among the top sectors drawing interest in terms of metaverse projects through 2022.

Sreeram Ananthasayanam, partner at Deloitte India, said that the key factors that would contribute to the adoption of metaverse experiences included "digital maturity of organizations", as well as the economic infrastructure and dependency on a growing creator economy that is driven by influencers on social media platforms.
"Based on the growing awareness of the application possibilities of the metaverse, organizations are likely to reshuffle their businesses — to take advantage of a new, evolving technology and address a digital-native generation," Ananthasayanam said.
Globally, however, the 'metaverse' buzzword faced a dent in October last year, when a report by The Wall Street Journal highlighted that Meta's own metaverse targets had not quite gone according to plan. Citing internal documents, WSJ reported that while Meta planned to have at least 500,000 users on its metaverse platform, Horizon Worlds, by October last year, the same figure was more than 60% short of target — at around 200,000.

To make things worse, the report added that even the users that sign up on the platform do not stick to it, and leave after their first month — causing the number of active users to remain very low.
MG's Gupta said that over time, the company will watch how the space progresses, before making a call on how to build on this metaverse experience further. "It's not just about putting money in a venture and expecting returns on this investment. The metaverse is a growing piece of technology, so exactly how it will grow and how we will use it is something that we ourselves will only figure out in the long run," he added.
---