Gupshup launches Auto Bot Builder for developing enterprise-specific chatbots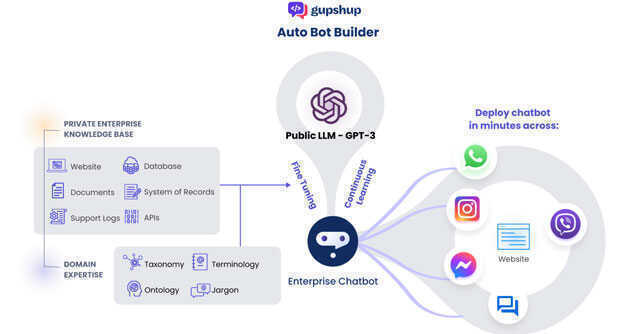 Conversational engagement platform Gupshup has launched Auto Bot Builder on Wednesday that will build advanced chatbots for enterprise requirements. Auto Bot Builder leverages large language model (LLM) GPT-3 (from OpenAI), and fine-tunes it using a proprietary enterprise knowledge base and domain expertise to develop a chatbot specialised to an enterprise.
With this tool, enterprises can use content from their website, documents, message logs, product catalogs, databases, and other corporate systems of record to build a chatbot instantly. Chatbots built with Auto Bot Builder will be pre-integrated with Gupshup's conversational engagement product stack. They will have built-in analytics, tracking, logging, billing, etc., and can be deployed across channels.
As per Gupshup, with Auto Bot Builder enterprises will be able to incorporate the latest artificial intelligence advances in a no-code environment to build conversational experiences and enhance customer engagement. Gupshup has also developed fine-tuned instances of industry-specific models based on its proprietary training data and domain expertise. The chatbots will be able to provide meaningful responses to any natural language query posed by the user for use cases like marketing, lead generation, product discovery and recommendations, troubleshooting, customer support, etc. Gupshup said in a statement that since chatbots built on the Auto Bot Builder tool are based on the proprietary knowledge base, they are more suited to specific enterprise requirements, unlike OpenAI's 'general-purpose' ChatGPT.

"GPT-3 represents a massive improvement in language and conversational abilities. We're excited to help enterprises harness the power of LLMs to enhance their customer experience. Gupshup is always among the first to bring the latest technology to enterprises, and we're glad to launch the Auto Bot Builder. This is just the beginning of a new wave of innovation, and we expect to rapidly roll out more advanced capabilities," said Beerud Sheth, CEO of Gupshup. The company works with over 45,000 businesses in a wide range of verticals like retail, e-commerce, edtech, travel, etc. in countries like India, Latin America, Europe, Southeast Asia, the Middle East, and the US.
In other news, the smart chatbot from OpenAI — ChatGPT — which gained popularity for its ability to produce human-like responses to natural language queries, will soon be available on Microsoft Azure OpenAI service. This announcement was made yesterday by Microsoft chief Satya Nadella while announcing the general availability of Azure OpenAI service, Notably, Microsoft entered into a partnership with OpenAI in 2019 by investing $1 billion. There are now reports that that tech company will be further investing $10 billion into the AI research firm.
---