Microsoft rolls out Teams Premium with GPT-3.5-enabled features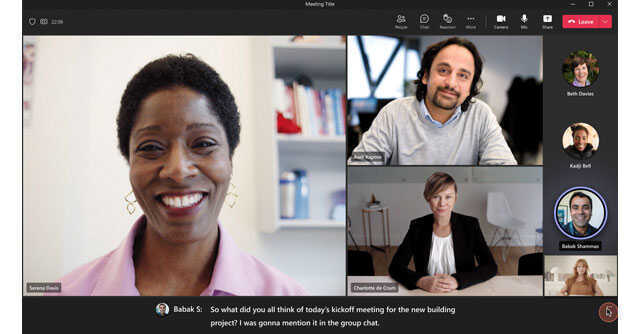 Microsoft has released a premium version of its meetings app called Teams Premium, which leverages Open AI's GPT-3.5 to offer more personalised meeting experiences for a monthly subscription of $10. It will be available as an add-on subscription plan within the existing Microsoft 365 or Office 365 license, the big tech company said in a blog post. Microsoft said that Teams Premium will be available for a discounted subscription fee of $7 for a limited time period.
Meetings and video conferencing apps such as Microsoft Teams have become the primary medium of interaction and collaboration for most organizations since the Covid-19 outbreak and the shift to remote work.
According to Statista, daily active users of Teams almost doubled from 145 million users in 2021 to 270 million in 2022.

This has led service providers such as Microsoft to offer new features in Teams that will improve the experience and make them more productive. Microsoft claims it added 400 new features and improvements to Teams last year and will keep on adding more this year.
With Teams Premium, Microsoft is trying to tap into the hype around ChatGPT and the underlying generative AI model GPT-3.5. Last month, the company announced that it will extend its multi-billion-dollar investment in OpenAI and continue to integrate its models in Microsoft's products through Azure OpenAI service.
"There's a ton of time-consuming administrative work during meetings, like taking notes, figuring out important takeaways, and capturing the right action items and owners. That's why Teams is infusing AI throughout the meeting experience, helping you be more productive in new ways," said Nicole Herskowitz, Vice President at Microsoft Teams.

For instance, a Teams Premium feature called intelligent recap will automatically generate meeting notes, recommended tasks, and personalized highlights. Similarly, AI-generated chapters will divide the meeting into sections so users can find relevant content easily. Teams Premium will also offer automatic AI-generated notes, AI-generated tasks, and real-time live translations in 40 languages to subscribers.
It will also provide IT admins in organisations to create customised meeting templates, which can be used for client calls, internal meetings, and help desk calls. Firms can also apply sensitivity labels for Teams meetings.
---