IIT Madras to offer online bachelors course in Electronic Systems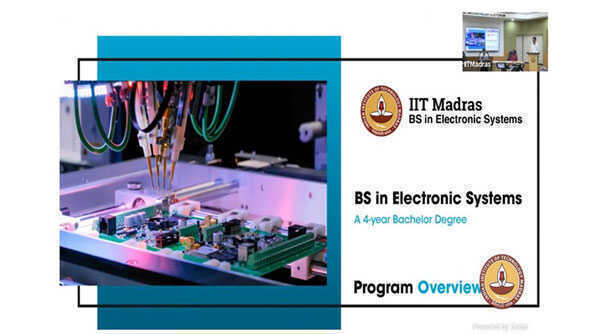 Union minister for Education and Skill Development Dharmendra Pradhan launched a four-year online Bachelor of Science (BS) course in Electronic Systems of IIT Madras.
Addressing the event, the minister said the course was a great initiative and will enhance accessibility to quality higher education and provide enormous opportunities to the youth to keep pace with knowledge, skills, and jobs.
Pradhan added that the course was in line with recommendations of National Education Policy 2020: quality, affordability, equity, employability, and multiple entry-exit. "More institutions will come up with such programmes for realizing Prime Minister Narendra Modi's vision of 'Vikasit Bharat'."

He said that this new-age course will provide further impetus to enhancing the reach of quality and affordable education till the last mile as well as boosting employability.
In addition to the certificate, diploma, degree level programme for the online BS course, the minister suggested IIT Madras design a basic module for all those who aspire to equip themselves with relevant skills of the digital and electronics ecosystem. "India should not only remain a consumer of technology but also build its own manpower. This online course by IIT Madras will serve the dual purpose of improving competencies of our existing workforce and preparing the workforce of the future."
To accomplish the mission of making IIT education more accessible to all, the fee for the BS in Electronic Systems programme has been kept affordable with additional scholarships being provided to students belonging to SC/ST/PwD categories and those with family incomes of less than ₹5 lakh per annum, ensuring inclusivity.

The key objective of the programme is to meet the significant and growing demand for skilled graduates in the electronics and embedded manufacturing sector in India. The programme features multiple exits and the students can get a foundational level certificate, diploma or a bachelors degree.
"The programme aligns with the India Semiconductor Mission to make India a global hub for electronics manufacturing and design. This is the second online BS programme from IIT Madras following BS degree in Data Science and Applications, which has more than 17,000 students studying currently," the Ministry of Education said.
---