There is a scary similarity between Jabong and Foodpanda, although one is an online fashion store and the other a food-ordering marketplace. The two ventures were German Internet conglomerate Rocket Internet SE's biggest bets in India and followed similar trajectories--from their launch, their rapid expansion and their struggles to survive.
Consider this: Foodpanda grew fast, acquired smaller companies and became one of the early Internet successes as it spent aggressively on marketing and customer acquisitions. Then, allegations surfaced of fake orders to bump up transaction figures and questionable financial deals with vendors that were suspected to be owned by a Foodpanda co-founder himself.
Subsequently, the company was hit by resignations of a co-founder (Rohit Chadda) and many others in the senior management. Its valuation slumped, it laid off employees amid talk of a shutdown, and the owners are now reportedly struggling to sell the company.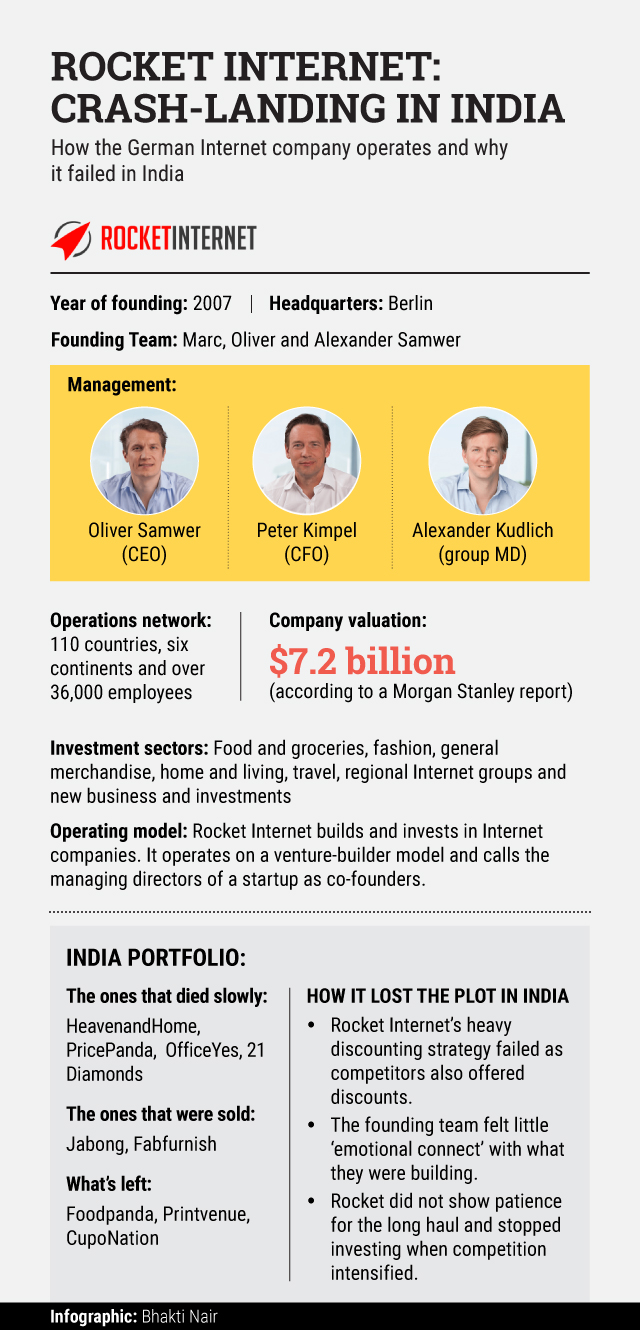 Now consider this: Jabong had an early mover advantage in the online apparel market. With many global brands on its platform, it became hugely popular among Internet-savvy youth. It expanded quickly and offered massive discounts to lure customers.
But its losses mounted, competition intensified and its founding team quit. Also, allegations surfaced about a co-founder's role in a fraud involving Gojavas, an e-commerce delivery company incubated within Jabong. Ultimately, Jabong was sold to Flipkart's Myntra for a paltry $70 million, a fraction of the $1-1.2 billion it was seeking less than two years ago.
So, why did two diverse companies ended up in a similar position? More importantly, why has Rocket Internet, which earlier sold its FabFurnish.com venture to Future Group, has failed in a country where tech startups are mushrooming?
According to venture capital investors and former executives at Rocket-backed companies, the answers lie in the German company's "copy-paste" model that doesn't consider local situations, the lack of effective oversight and the absence of the will to stay in the game.
"Not a single Rocket company survived in India," according to Seedfund co-founder Mahesh Murthy. "Two things happened to Rocket—one, they came with the flawed assumption that their copy-paste model will work in India and two, their Indian management, be it in Foodpanda or in Jabong, cheated them," he said.
With the sale of Jabong and FabFurnish, Rocket Internet is left with Foodpanda, Printvenue and CupoNation in India. Printvenue and Foodpanda face a threat of being shut down if no suitors emerge. Printvenue also saw top-level exits last year. Rocket Internet, however, led a Series B round of $11 million in CupoNation in February.
A Rocket Internet spokesperson declined to comment when asked about the likelihood of shutting these ventures.
"We are constantly evaluating market potential for different business models and base our investment decisions on it, so I can't make a comment from a future perspective for India (as I can't for any market)," the spokesperson said.
A spokesperson for Global Fashion Group (GFG), the parent of Jabong, told VCCircle after the deal with Flipkart was announced that the Indian e-commerce market was extremely competitive and unprofitable. Rocket and GFG realised the need for "significant capital required to compete in the Indian ecommerce market" and decided to exit Jabong, the spokesperson said.
Another venture capital investor, who critiques the Indian startup ecosystem, said Rocket's idea of cloning successful businesses elsewhere without any regard for the local conditions backfired. "The lack of oversight on the operations cost them dearly," he said, alluding to allegations of irregularities in Foodpanda and Jabong.
Rocket Internet had earlier reportedly initiated an internal inquiry after finding out that it was short-changed in the sale of e-commerce logistics firm Gojavas. Reports also said that it was pursuing a case against Jabong co-founder Praveen Sinha for siphoning off more than Rs 100 crore. Sinha has initiated legal action against a pseudonymous Twitter user who made these allegations.
A former senior executive of a Rocket Internet-incubated company said that the firm's model is unlike any typical startup trajectory where co-founders struggle for two to three years to build something and later some venture capital investors would invest. "They (Rocket) hold a meeting, appoint some operating founders; there is no emotional connect to what they are building," this executive said. "You will not see such irregularities happen in companies where founders have an emotional stake," he added.
Another former executive of one of the Rocket companies in India said that Rocket showed little patience. "These are long drawn-out battles," he said.
Rocket Internet, which is publicly listed, is facing heat from its investors over continuous losses and a decline in revenue of its portfolio companies globally. Questions have been raised about its strategy of sending "business school graduates to start 150 startups in more than 110 countries in a few years," according to a Reuters report, which also said its copy-paste model of e-commerce startups in Africa are struggling.
Suvir Sujan, managing director at Nexus Venture Partners, pointed out in a blog post the flaws of the model adopted by international incubators; building companies based on copycat ideas by hiring professionals in an apparent reference to Rocket Internet.
"In markets that take time to mature, hired CEOs don't have the staying power to stick it out for a decade or longer," said Sujan. "Given that it is not their idea, there is no pride of ownership, economic incentive or moral responsibility to stick around."
Like this report? Sign up for our daily newsletter to get our top reports.
---