Trans-Pacific Cable System Operational
Bharti Airtel, along with 16 other members of the Europe India Gateway (EIG) consortium,  announced the commencement of commercial operations of a 15,000 km long high bandwidth, optical fiber cable system - the EIG cable system - connecting India, Middle East and Europe.
Bharti Airtel had signed the construction and maintenance agreement to build the cable system in 2008 and it was expected to be open to commercial traffic by second quarter 2010.
The cable system stretches over 15,000 kilometres between Mumbai and London, and some $700 million has been invested in it. It has a capacity of 3.84 terabits per second and connects 13 countries across these three continents.
It will help the company in its African operations by boosting connectivity. Bharti Airtel is present in 15 countries in the continent through its acquisition of Zain Telecom last year. In Nigeria, Gabon, Kenya, Tanzania, Zambia, DRC, and Ghana, the company has noted rising demand for broadband.
Here's a look at Airtel's global network from the company website: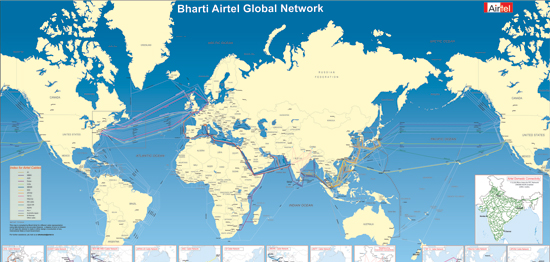 Using dense-wavelength-division-multiplexing (DWDM) technology, the cable system supports Internet, ecommerce, video, data and voice services. Other EIG Consortium members include AT&T, British Telecom, Bharat Sanchar Nigam Ltd, Cable & Wireless Worldwide, Djibouti Telecom, Du, Gibtelecom, Libyan Post, Telecom and Information Technology Company, MTN Group Ltd, Omantel, PT Comunicações, S.A., Saudi Telecom Company, Telecom Egypt, Telkom SA Ltd, and Verizon.
Comment(s)