Big Rock is on a roll, advertising its 'rock bottom' prices for setting up a website. Targeting individuals, small businesses and professionals, Big Rock will now add ecommerce, SEO and online marketing layers onto its web site packages.
This is the latest venture by the Mumbai-based Directi Group, a $300 million firm which has other products such as LogicBoxes and Reseller Club too. Directi is pumping in Rs 10 crore to fuel Big Rock and expects this business division to grab 20% of the web presence space in the next 3 years.
Having a web presence means booking, registering and selling a domain name such as www.whatsmyname.com. This can be either for a personal blog or for a business. Email ids and hosting services, allowing you to start blogging or configuring your website's design through templates, embedding widgets and plugins etc are also part of this process.
"India is at the cusp of a major transformation as more and more people log onto the web and the next step is to set up a web presence. For a business user, this is critical as it not only adds credibility to his company but also generates leads through the website," said Tarun Davda, Business Head, BigRock.com.
In India, the web presence market is a $100 million opportunity and is growing at 25% year on year. In a highly fragmented market where web designers, domain name service providers and hosting are currently being offered by separate companies, leaving users to grapple with multiple bills and varying standards of service, the company believes that having a brand offering web site packages will make it stand out. "Right now, Indian Internet users do not know who to go to to set up a website, where to start and finish," Davda added.
Big Rock has 2 packages right now - the first is a do it yourself (DIY) website builder, which has themes that have been customised for the Indian audience. This will offer 1-50 pages, which typically suffices and is priced at Rs 79 per month. However, this does require some amount of technical knowledge, so the company has a professional package. This is a premium service costing anywhere between Rs 15,000-25,000, Davda said. Big Rock has a 75 member team comprising web designers and programmers who will interact with the customer to create his/her website. There are currently 10-15 web designers employed by the company. The domain booking system is completely automated and books your domain in real time.
SMBs To Drive Growth
Within a few days of launching its web domain booking service, Big Rock saw 1000 SMSs per day streaming in to its call centre. The company has partnered with Value First Messaging for the SMS shortcode. It expects that with individual Internet users starting to explore setting up of their own website and concepts like wedding websites snowballing, the web presence market is set to grow.
The backbone of the economy are the small businesses and professionals, who will drive growth of the web presence in India. To target this populace, Big Rock is adding ecommerce, SEO (search engine optimisation) and online marketing shortly. Ecommerce will be integrated onto a site set up by a merchant, for example, who can permit visitors to his website to shop on it and complete transactions at the same destination. This will be via eBay for the do it yourself package, the company said. Another product being explored is .PW, an enterprise collaboration suite that will be launched shortly
Pricing & Payment
Though various payment schemes are being offered, Big Rock notes that netbanking is the most preferred choice in India compared with credit card banking in US. It claims its services are priced half of Godaddy's pricing. Here's a price comparison the company shared with us on being asked, with Net4India in the mix too: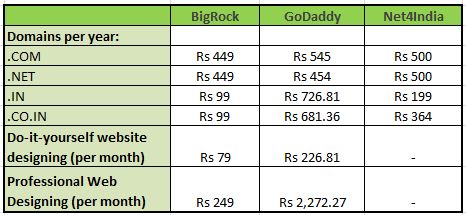 Our calculation came to:
Godaddy -- Rs 726.81 per year for a .in domain and Rs. 2721.82 per year for website design which includes free hosting (Rs 226.81 per month x12) = Rs 3448.53 per year.
Big Rock -- Rs 99 for a .in domain per year + Rs 948 for hosting and website design (Rs 79 per month x12) = Rs 1047 per year.
---