Bigindianwedding.com Launches Site To Plan Weddings, To Expand To 20 Cities

India has a vibrant online matrimonial classifieds industry, with Shaadi.com, Bharatmatrimony.com, but here is a website with a difference - BigIndianWedding.com is for people looking to plan their weddings. Its mission is to "rescue brides and grooms to be and their families from the woes of wedding planning". And it does help bylisting local and national vendors and their contact information.
Bigindianwedding.com hosts a collated list of 2672 vendors in 29 categories - from unique wedding venues (in the backwaters of Kerala or a palace in Udaipur), gifts, to florists, decorators and jewellery, weight loss services, make up artists and even a ghoriwala. The site will add more categories and local as well as national vendors. Bigindianwedding will reach out to vendors in Chandigarh, Pune, Surat and Ludhiana next.
"We want to be the largest showroom for Indian weddings on the planet and are growing aggressively across India. We want to make the experience of planning a wedding as smooth as possible," says Ashish Abrol, Founder and CEO, Bigindianwedding.com.
Vendors in seven cities are currently listed on its site, including the metros and Hyderabad, Jaipur and Bangalore and the company is now expanding to seven more cities by June. Jaipur was one of the first cities the company looked at, even before metros, since it is THE destination when it comes to weddings in North India, with its residential palaces booked as venues and the horde of jewellers. "We wanted to showcase a list of jewellers from Jaipur on the site, and knew that information would be in demand," says Abrol.
He shares his rationale behind setting up a wedding planning site, saying, "Matrimonial sites currently have around 20 million users. On a conservative basis, about 50% are potential customers. These users are already on the Internet and surfing around - and there is no site addressing their needs."
Revenue Model
The website is monetised only through advertisements: there are 13 advertisers overall including silk saree brand Nalli, a designer Gaurav Gupta, fashion house Kimaya Studio and jeweller Raas. It is also planning to introduce another revenue stream - the classic lead generation model where the company is paid by the merchant every time a customer uses the website to reach the merchant and purchases something - and advertisements.
Taken aback at the statistic that Bigindianwedding.com has planned a whopping 216,998 weddings already, we prodded Abrol and learnt that this is the number of visitors to the site who have conducted a search and not, in fact, weddings that have been planned. "It's a poetic interpretation - we assume that the number of users searching through listings on our site used them to plan their weddings," Abrol explains. The company does not track the leads generated through the website currently.
In India, sites like Marrymeweddings.in and MysticalMomentsIndia.com are few and far between and in comparison the US market has some portals catering to this segment including TheKnot.com, Weddingwire.com, Wedalert.com and Weddingbee.com. Top wedding planning site TheKnot.com is a NASDAQ listed firm and reported revenues of $112.9 million in 2010. "TheKnot.com is certainly an inspiration to our site," he says.
Growing Fast
The website is attracting a number of visitors. In December, the site witnessed 45,000 unique visitors and 100,000 page views. In January this jumped up to 70,000 unique visitors and 250,000 page views. By February end, Abrol expects this to be 90,000 visitors and 350,000 page views. And there's more to look forward to in the next decade. With the average age of Indian projected to be 29 years in 2020, the wedding market set to explode over the next decade.
Within months of its launch, Bigindianwedding.com has jumped up in Alexa rankings amongst Indian websites from 96,000 in September to 7,517 now. It has raced past Shaaditimes.com by the People Group (who own one of the top Indian matrinmonial sites Shaadi.com) which is ranked at 20,589. Consim Info CEO Murugavel Janakiraman told us it is not a focus area for the company. Bigindianwedding.com's global Alexa traffic rank for three months is 104,385.
Now the startup is in advanced stages of discussions to raise seed funding. The amount is not disclosed, but the company expects to raise, in seperate tranches, anywhere between 5crore -8crore. "We will use the funds to launch more service offerings and expand aggressively into more cities," said Abrol. He started his career as a banker with Deutsche Bank and has a decade of experience working with technology companies IBM and CSC in New York in a client management role.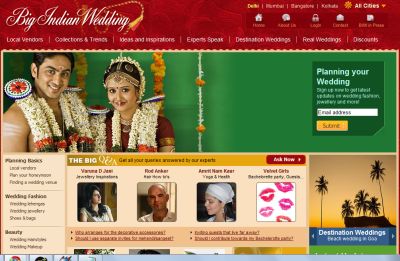 Next: Packages For Wedding Websites
In April, BigIndianWedding plans to launch wedding website making packages, allowing users to create their own site. In the first stage, users will only have a sub-domain within Bigindianwedding.com - such as BigIndianwedding.com/PoonamandGaurav - and later on, the company plans to allow them to buy a complete domain to make it Poonamandgaurav.com.
The sub-domain will be an online destination for those about to be married and the newly married where they can host and share all their wedding photos with an online album and also talk about how they met, introduce their family and friends. They will also be able to send out invitation cards, get RSVPs, and offer directions and maps to the venue. They can even send out announcements at a short notice - if there's a party happening, everyone gets invited, offers Abrol.
"We will offer monthly and yearly packages and expect people to subscribe to them on a longer time frame because they might want to keep their domain forever and use it for an anniversary, or to showcase baby's birth," says Abrol. EWedding.com offers a similar service, with four packages with a homepage, wedding email, photo albums and support.
Comment(s)