Oracle India MD Bhaskar Pramanik May Join As Microsoft Top Gun

Bhaskar Pramanik, managing director, Oracle India, has resigned from the company. Pramanik may soon take over as top gun at Microsoft India, though we do not yet have any official confirmations. Sandip Mathur, vice president, Technology, of the company will take over from him as the new managing director.
Last month, Ravi Venkatesan, chairman and corporate vice president of Microsoft had put in his papers. This had come in the heels of two other Microsoft top honchos, Rajan Anandan and Srinivas Koppolu resigning from the company, in what is believed to be in Steve Ballmer's anticipation of a global management reshuffle of Microsoft.
Pramanik is a veteran of the IT industry, with over 35 years of experience under his belt. Pramanik joined Oracle from Sun where he was vice president, Commercial Systems Sales. Oracle acquired Sun in April 2009.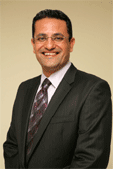 Sandeep Mathur joined Oracle in 2003, when he was director, Oracle Direct, North America Sales. According to the company's corporate website, Mathur was instrumental in setting up Oracle's offshore inside-sales operations for the North America sales organization. He holds a B.E in Electronics and Communications from Bangalore University.
Comment(s)