EC Media Sells 3000 Wink eReaders; New Versions In April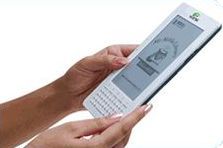 Having sold 3000 units of its first generation Wink Ereaders, EC Media is now readying 2 new versions of the e-book reader with new features.
The new models of Wink eReader will be available with 6-inch and 9-inch screens and in 2 price ranges each - budget and high-end. Though announced in January, the company has informed TechCircle.in that the Winks will be commercially available by April.
"The initial plan was to launch the e-reader on January 1, but it had to be delayed as we wanted to make it more feature-rich. Besides, we wanted to have atleast 500,000 e-books in our database before the launch," explains Ravi Deecee, chief executive of DC Books, which has a majority stake in EC Media.
Sales of the first generation Wink eReaders were affected by a customs issue hiccup which resulted in a shortage of availability of sales, but Ravi has confirmed that it has been resolved. The company has only sold a total of its 3000 Wink Ereaders so far, according to Ravi. He did not offer a break down of sales per model. He has set an ambitious sales target of 25,000 units for the end of the year. EC Media partnered with Croma for retailing the ebook readers across India and has simultaneously tied up with Redington as its national distributor. The company also plans to launch an Android version of Wink.
New features being introduced are the facility to email and use text-to-speech conversion. EC Media's technology partner, the Chennai-based California Software Co. Ltd. (Calsoft), has developed the text to speech feature, which uses English as the default language. Calsoft is porting the feature to more regional languages now. Calsoft's CEO and Managing Director Sam Santhosh is on the board of EC Media.
Text to speech on an ebook reader could mean the end of audio books, which are produced with recorded voices. "None of the other ebook readers have text to speech, it is one of the value additions we have brought to the Wink," said Ravi.
The WinkStore
Launched in September 2010, TheWinkStore.com has a collection of 3.5 lakh ebooks and the company expects this to soon reach 5 lakh ebooks. A majority of the ebooks are in English, and EC Media has tied up with the top 6 global publishers such as Penguin, Roli and Oxford University Press as well as Ingram, a US-based digital aggregator, to add ebooks to the store. EC Media's focus on regional languages is reflected again here - there are ebooks in 15 languages including Hindi, Tamil, Marathi and Malayalam available on the store for download. Wink eReader supports these 15 regional languages.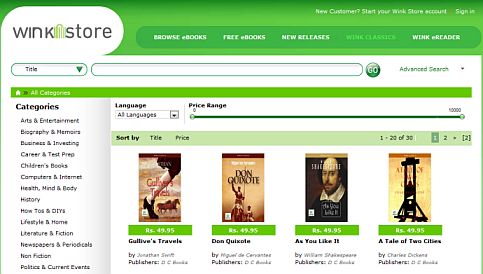 In order to push sales of Wink eReaders, EC Media is undertaking promotional activities in select neighbourhoods per city such as bundling coupons worth Rs 3000 with it. With the coupons, users can purchase regional language ebooks of their choice. It has attempted a pilot in Kerala and now plans to replicate it in other states. "Our strategy was to reach neighbourhoods and offer coupons or even bundle free ebooks in the language of their choice," he said.
Wink eReader competes with Indian ebook readers such as Infibeam's Pi2 which just started shipping and with Amazon's Kindle globally. There is also Nook by Barnes & Noble.
Comment(s)