Social Startups Merge: Kuliza & GizaPage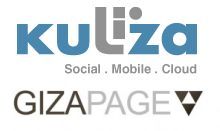 Web 2.0 services startup Kuliza, has acquired GizaPage, another Bangalore based startup that offers social platform provider for brands.
Kuliza was set up in 2006 to meet the rising technology needs of startups and mid-sized companies and develops its own apps along the way. It placed 10 in Deloitte's list of Fast 50 Indian companies in 2010.
Kuliza's work is related to mobile, web security, social media, ecommerce and Web 2.0. One such is an iPhone event app that allowed users to subscribe, read relevant information and news about it, comment on the events and view past event galleries on the mobile. It has a service called ZaMobile for designing and building mobile apps and games and ZaCloud services for enterprises. Another project by Kuliza is a social B2B platform for businesses interested in ecommerce. The platform enables buyers and sellers to connect globally, collaborate around purchases, recommend each other, negotiate costs and build affiliation through social networks.
GizaPage's Social is a plug-n-play software that adds a social layer to any brand's website, making it easier for them to engage their customers and gain insights and analytics. Take for example Connect.Kingfisherworld.com, which brings integration of networks such as Facebook, Flickr, Twitter and Youtube so visitors immediately get a holistic view of what the company is sharing on various online media platforms. So it's no longer just links to the company's Facebook page or a widget with the number of fans, but a real-time view of photos being posted, groups, pages, videos and the like. Gizapage was set up in 2009 by Amit Jaipuria and Vijay Rayapati.
"We've always admired the GizaPage team's efforts in the social space and their poineering work with Facebook. This is another step forward towards driving Kuliza to be the most innovative social technology company. Our team is sure to go places in the coming years." said Anand, founder and CEO of Kuliza. Anand is a serial entrepreneur, who previously set up Stockfundas.com, which offered investors with tools for fundamental analysis of US stocks. He also was a founder of SQA Technologies, which is now VMLogix and has been employed in product development roles in Trilogy and Amazon.
It is a team acquisition and the two startups are currently operating independently until they merge, Pluggd.in reports. Rayapati has joined Kuliza as CTO. The team will work on developing social and mobile software for Kuliza's clients, the company blog said.
Comment(s)