Apple Is The World's Most Admired Company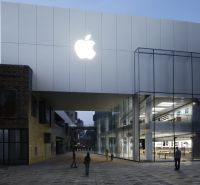 Cupertino: The world's top two most admired company are tech companies. It is a IT world after all. Apple is the most admired company in the world. This is according to the Fortune rankings just released. This is the company's fourth consecutive year at the top slot. Google is at number two.
Apple's ranking comes as a no-brainer. The Cupertino, California-based company has had several iconic product releases in the last few years. IPads, released in April 2010, sold over 15 million units in the first year of its launch. The affluent world is now divided into the haves (who have their iPads) and the have-nots (who do not). There are other tablet devices in the market of course. Xoom from Motorola, or Samsung's Galaxy Tab for example. IPads however still continue to be the tablet of choice. The IPad 2 (yet to be launched in India) that came out in March also received rave reviews, and the company can be expected to have a stellar year ahead.
Google is the second most admired company in the world, says the study. The company says it activates Android-based devices (look Ma, not just phones) at the rate of 10 million new units a month. Google has also seen growth in YouTube, display advertising, and even enterprise apps. The company is trying to take on Microsoft in their own turf (operating systems and productivity software). Chrome-OS based Google devices are expected to hit the shelves sometime in the middle of this year. It will however not be all smooth sailing for Google "the company is the target of ongoing antitrust investigations, besides being the subject of several privacy-related lawsuits. (You may want to read our feature on Google). Other companies that made the list include Amazon.com (seventh place), Microsoft (ninth place), and IBM (ranked 12th), along with Cisco, Intel, Netflix, eBay, and Oracle. Facebook did not make the cut. To read the full list, click here.
The rankings are based on a survey by the Hay Group where over 4,000 executives, directors and securities analysts are asked to select ten companies they admire most from a pre-determined list. You can read more on the methodology here.
Comment(s)