A Learning Gadget For Students - Edutor Launches Advantage e40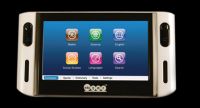 Move over ebooks, here comes a true student's gadget - Advantage e40 by Hyderabad-based Edutor Technologies is a 4.3-inch touchscreen device that comes embedded with content aligned to the school curriculum.
The Advantage e40 has been commercially launched as a handheld home learning device for K-10 school students, after a successful six month pilot activity. The e40 will now be made available in bookstores such as Landmark, Himalaya Book World and Central Book Shop. The price is not known.
Currently designed for CBSE students from Class 3 to Class 10, the device offers subjects like Math, Science, Social Studies and English. Advantage e40 also features some fun content - basics of cricket, yoga and karate, spoken English content, as well as test papers and Wikipedia topics, which can be downloaded from the App Library. The company claims it has sold hundreds of units of the e40.
"Advantage e40 user interface is very intuitive and easy to use for children of all ages. Our intent is to offer a completely out-of- box home grown solution which will become a perfect home learning tool for CBSE students and supplements what is being taught in the class in an effective manner,"said Ram Gollamudi, CEO, Edutor Technologies.
The e40 has a 4.3 inch LCD backlit touch screen and its size is 14.9 cm x 8.2 cm. The specs on the company's website do not reveal which processor powers it, nor the OS used. It has 4 buttons - enter, esc/back, volume, on/off button and the navigation keys on both sides of the screen.
Advantage e40 will be launched for ICSE, IGCSE, SSC (State Boards) students soon. The company is also working with public bodies to improve delivery of education in government schools. There is an option to upgrade the content as the student moves to higher classes.
The company is reportedly looking to raise a first round venture funding in the region of $3 million.
Comment(s)