Babyoye.com Starts Expanding; Why A Diapers.com Will Not Work In India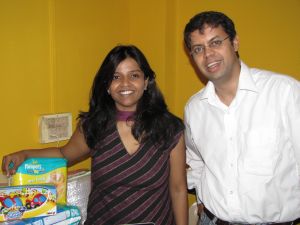 When they had a baby, the husband-wife duo Arunima Singhdeo and Sanjay Nadkarni realized that an online shop specifically for new parents was the need of the hour. It would cut down the effort involved in getting the basic necessities - no driving around to different stores and scouring for the best brands. And that was the genesis of Babyoye.com. Today, it receives 1000 daily visitors, registers 80 transactions per day and is rapidly investing in its team and inventory to expand its operations.
Babyoye.com was established in May 2010 under a parent company headquartered in Mumbai - Nest Childcare Services Pvt Ltd. It offers a range of 4,000 products including Pampers diapers, Chicco food, Johnson's skin care range and cycle-maker BSA's prams and walkers. Babyoye.com delivers to 20,000 cities and towns in India.
Nestcare employs 15 right now and is adding to its merchandising, operations, products and marketing teams to reach a strength of 50 by September. Its in-house BPO employs four and will add six more. Technology is currently outsourced to a Bangalore-based company. The company is now looking to raise $1-2 million to fuel its expansion plans, which includes moving into a larger office and warehouse on the outskirts of Mumbai.

The company currently has 2 warehouses in New Delhi and Mumbai and is planning to set up a third in Bangalore. Babyoye.com has some 4,000 products in its inventory including prams, baby food, diapers and diaper bags, etc and plans to increase this to 20,000 products by December. Babyoye has partnerships with 80 national and international brands for distributing their products and does not offer gray market products such as Jerber Food, Areno Baby in keeping with the law.
Babyoye.com stores inventory of the best selling products to last 15-20 days in its warehouses. For the others just in time arrangement with its 80 distribution partners. Small entrepreneurs are also being reeled in to deliver quality, indigenous products on the website, such as a Mumbai-based lady who makes diaper bags. The delivery time promised by Babyoye.com is 3-5 days and its logistics partners include Bluedart and Aramex.
Price & Feedback
The pain points they decided to solve through Babyoye.com were delivery and better choice of products. Not pricing. There is barely any discount being offered on the website and 2-4% below MRP is the best that is offered. The company also does not charge for shipping over Rs 2,000. Yet, it is not enough to satisfy Indian parents.
"What consumers want is convenience and value - not a 70-80% deal but a value price point. Ecommerce is about having the right inventory to sell," reasons Singhdeo.
According to some young mothers Techcircle.in spoke to, price sways their choice from Babyoye.com and back to offline retail stores, no matter how inconvenient the drive is. Specifically, the cost of high chairs and other furniture were high, we were told. Another offered the feedback that the range in clothing was unsatisfactory.
Why The Diapers.com Model Will Not Work In India
Though Pampers is one of the best selling brands on Babyoye.com, there are challenges to setting up a site like Diapers.com in India. Diapers.com was acquired by Amazon for $540 million in November 2010, one of the biggest deals seen in ecommerce.
"The Indian market is very different from USA - we cant establish a Diapers.com here because of our inherent logistics delays and the lack of brand merchandising. We need to get these brands in India, identify them, brand and distribute them first before setting up an online storefront," she says.
Logistics have been perfected by ecommerce companies like Flipkart and Infibeam, who are able to deliver goods faster. But this is because of the form factor of the product categories they have chosen to sell, she points out. "They have courier boys who roam around in bikes to deliver books and mobiles, whereas we would need a larger vehicle to deliver bigger goods, say a pram," she says.
Partnerships & Competition
Babyoye.com will partner with daily deal sites such as Snapdeal.com, Mydala.com and Dealsandyou.com for customer acquisition. "We are in talks with daily deal sites. We are also talking to online shopping and ecommerce platforms as well as parenting related companies," says Singhdeo.
The company does not fear immediate competition from brands setting up their own online stores. "Big brands are strong distribution companies. They dont really understand online and how to approach it," she offers. She expects that they will set up their online fronts in the next 1-2 years but Babyoye.com will still have an advantage since it aggregates various brands.
Even as specialist baby care stores such as Mahindra Retail's Mom & Me and Shoppers Stop's Mothercare are starting to expand across the country, this website has already reached far flung Tier 2 and 3 cities such as Shillong, Guwahati, Shimla and Goa. "The baby segment in India is still very under-represented right now. Offline retail has only taken off in the last two years. Our thought is that it's a big market and we have the right approach," says Singhdeo.
Comment(s)