E-Commerce Growing 47%: IAMAI

The e-commerce market is expected to grow by 47% from Rs 31,598 crore in 2010 to reach Rs 46,520 crore by end of this year, according to a report released by the industry body Internet and mobile Association of India (IAMAI).
In 2009, the e-commerce market stood at Rs 19,688 crore.
Online travel still claims the majority of the e-commerce market share in India, constituting 77% at Rs 25,258 crores in 2010. It is estimated to grow by 50% to reach Rs 37, 890 crores by December 2011. This is down from a 69% year on year growth registered in 2010.

Digital downloads and e-tailing, according to IAMAI predictions, will grow by 62% to reach Rs 1,100 crores and Rs 2,700 crores respectively by December 2011.
Financial services is now at Rs 2,000 crore (December 2010) and expected to reach Rs 2,650 crores by December 2011.
Earlier, in a pre-budget memo, IAMAI had revealed that the online classifieds industry pays a service tax to the tune Rs 60 crores annually which is directly collected from the users by the service providers and submitted to the government.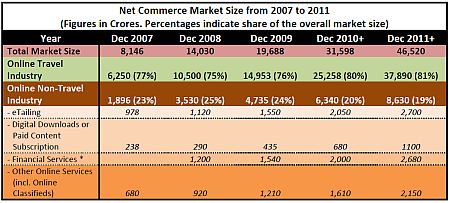 ---