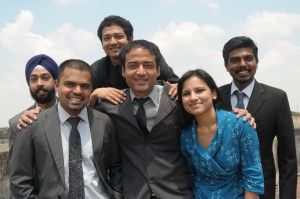 BankBazaar.com, an online loan information and processing website, has raised $6 million in its first venture capital round from global fund Walden International.
Rajesh Subramaniam, Managing Director of Walden India, has joined the board of directors at BankBazaar.
The company will use the funds to hire more financial services and technology experts. It has on its advisory board Dr. Arvind Panagariya, Bhagwati Professor of Economics at Columbia University and retired Chief Economist at the Asian Development Bank; N. Rangachary, the founding Chairman of the Insurance Regulatory and Development Authority (IRDA) of India; V.P. Shetty, Director of JM Financial Securities Pvt Ltd; and Suresh Talwar, Partner at Talwar Thakore & Associates and Director at Cadbury India, Birla Sun Life and BioCon.
BankBazaar.com, founded by Arjun Shetty (COO), Rati Rajkumar (CPO) and Adhil Shetty in Chennai in 2008, claims to allow online users to find the best deal for home, car or personal loans. It also offers tools to calculate SIP and loan refinancing. BankBazaar partners with national and global banks such as HDFC, Axis Bank, Standard Chartered, Deutsche Bank, ING, Kotak Mahindra and ICICI Bank to offer instant interest rate quotes and approvals on loans.
"Currently, the process of applying for loans in India, from finding the best deal, applying and getting it processed is cumbersome and time consuming. BankBazaar.com's solution not only helps the consumers in getting the best deals on the loans online, but also provides end-to-end fulfillment by enabling online processing of loans. It also helps banks in reducing the turn-around-time, enriching customer experience and reduces costs. This is a win-win situation for both banks and consumers," said Rajesh Subramaniam, Managing Director of Walden India.
"The funding will help us in enhancing our reach to consumers and offerings across loan and insurance products, thus enriching customer experience," said Adhil Shetty, CEO, BankBazaar.com.
Walden has $1.9 billion in committed capital for investments and invests in clean technology, Internet and digital media, semiconductors, software and IT Services as well as companies in the emerging technologies domain. Walden's investments so far include Bangalore-based MindTree Ltd, WebEx (which was acquired by Cisco), Creative Technology, SINA and Semiconductor Manufacturing International Corp, Quattro BPO Solutions Pvt Ltd, E4E Inc, CoOptions Technologies Ltd and Airtight Networks.
Today, there are a slew of websites that cater to loan and insurance comparison websites in India such as Apnaloan.com by the Sequoia Capital and JAFCO Asia backed ApnaPaisa.com, Deal4loans.com, a Delhi based start-up and iTrust.in by Karvy Private Wealth, the wealth management arm of Karvy Group. For insurance, there are PolicyBazaar.com by InfoEdge, InsuranceMall.in, ApnaInsurance.com, Peacock Financial Advisors Pvt. Ltd's Getmeinsure.com, Insurancepandit.com by A & M Insurance Brokers Pvt Ltd and MyInsuranceClub.com, which recently raised its second round of angel funding.
---