TravelMartIndia Launches Exclusive Travels Deals Site Vamoose.in; Will It Fly?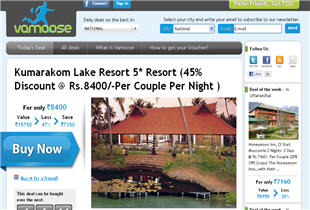 Kumarakom Lake Resort is one of the most luxurious resorts in Kerala's famous Kumarakom backwaters. The resort - located on the shores of Vembanadu Lake - is currently hawked at Rs 15,750 per night. But you can pick this up for Rs 8,400 on Vamoose.in, a new website selling deals exclusively in travel and hotels space. That is a saving of 47%, and offers tremendous value for those who are looking for deals in the travel space.
Vamoose.in is the latest entrant into the deals space, but will only do hotels and getaways compared to others like Snapdeal or Dealsandyou which will sell you anything from a dining out to a spa treatment to even getaways.
Vamoose Vacations Pvt.Ltd. is promoted by Manoj Gursahani, Chairman of Travel Mart India Pvt Ltd, and Hari Swaminathan, who was previously a seed investor and director of Zyncorp, LLC, a US-based outsourced solutions provider for healthcare firms and small hospitals.
Launched late last month, Vamoose.in offers discounts for the leisure vacations category, packages such as weekend getaways to hill-stations, national and international vacations, adventure packages as well as wellness packages.
"We decided that we would offer limited choices in terms of hotels but would have deeper relationships with our merchant partners to get better deals," said Manoj Gursahani, Director, Vamoose.in, and Chairman of Travel Mart India Pvt Ltd.
Vamoose Vacations Pvt Ltd has been established as a separate company and not as a subsidiary or affiliate business of Travel Mart India, but is utilising Travel Mart's existing business relationships to gain a leg up.
The website offers discounts in the range of 40% on hotel packages and the company reports that it is picking up momentum, having sold 30 packages already and now selling 8-10 packages per day. The average transaction amount is Rs 15,000 (Rs 4,000 per person) and Vamoose.in receives a margin of 8-10%.
The duo claim with the deals site, they have a chance to grab at least a 10% of the the online Indian travel market, which is the biggest category in Indian e-commerce.
The Travel Space
Travel deals is fast rising as a category in the deals space with leading deals players launching a section for deals in hotels and getaways. Online travel claims the majority of the e-commerce market share in India, constituting 77% at Rs 25,258 crore in gross merchandise value in 2010. According to IAMAI, it is estimated to grow by 50% to reach Rs 37, 890 crore by December 2011.
Is there a need for a separate site for travel deals? Or is it too niche a vertical, given that travel is an infrequent purchase and loyalty to a travel deals site could be lower compared to a broader deals site with travel as a section? There could be an opportunity since hotels and getaways are the most profitable of the travel pie with intermediaries getting to command a higher commission. But this piece is yet to grow with its own inherent disadvantages such as lack of computerised systems in majority of the hotels and resorts. However, that will change in the future.
Snapdeal, the daily deal site operated by Jasper Innovative Marketing Solutions, recently added travel deals sourced from OTAs and claims to have sold 1,000 packages in 3 days flat. Kunal Bahl, CEO, Snapdeal, said, "This is a powerful business because of the high frequency, low ticket purchases. When you add travel to a platform that is already doing it, the chance of getting a share of the travel spend wallet of the customer becomes easier. Our relationship with our subscribers is deeper and this translates into higher velocity of transactions, which is important in this business."
Rajesh Magow, CFO of Makemytrip.com, the largest OTA in India, however, expressed his doubts whether there was a need for a separate website for deals on travels as there are already larger players with bigger volumes and traffic in travel space.
He added that the value proposition for customers is critical. "Every OTA player is coming up with travel deals as part of our strategy and there is so much already available, so there needs to be a unique value proposition," said Magow.
The USP of Vamoose, according to Gursahani, will be domain expertise - which comes from Travel Mart's 26 year long experience with the Indian traveller's demands and needs. Travel Mart India has 100,000 users.
"We understand the seasonality of the travel business and also have direct relationships with hoteliers that will generate better deals. We will offer superior customer support and our executives will be able to answer all the queries," said Gursahani. The company has 25 merchants on board so far and is in discussion with 200 via Travel Mart's relationships.
What's Next
The next step for Vamoose.in is to offer a certification to the hotels and resorts so online users are guaranteed quality rooms and service. Customised packages will be introduced in the near future, allowing groups to request for a deal via Vamoose.in. It will also target large enterprises, said Swaminathan.
The next version of the website will feature navigational improvements and more categories. Post sales support will also be offered in the form of connecting Vamoose.in's users to Travel Mart India so users can book flights back home.
The company currently employs 7, and although bootstrapped, is ramping up quickly. It expects to employ 100 in the next 6 months and will also move out of the Travel Mart office it currently occupies.
Players like Vamoose will have an advantage as a typical OTA is more focused on selling air tickets right now and are also little focused on getting great deals on hotels and resorts.
Vamoose has a big challenge of building a consumer brand, and that requires capital, staying power and great execution. Its parent Travelmartindia.com was India's first travel portal but currently do not feature among the top OTAs in India. This would be their second chance.
Comment(s)