Dell Revenue In India Nearing $2B, To Add Staff - CEO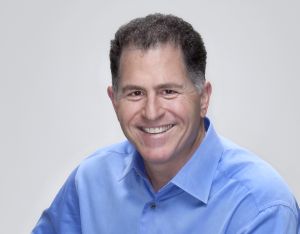 Dell Inc's annual revenue in India is nearing $2 billion and the world's No. 2 maker of personal computers plans to add more staff in the country, its chief executive said.
"We are continuing to invest here and continuing to grow the business ... India for us is a critical part of our infrastructure globally," Michael Dell said at an event in the Indian capital on Tuesday.
He did not give the timeframe for the target or current annual revenue in India, where the company has a manufacturing operation near the southern city of Chennai.
Last month, Dell's fourth quarter earnings and margins blew past Wall Street expectations as component costs slid and corporations replaced ageing technology.
The company forecast 5-9 percent revenue growth for fiscal 2012, which ends in January 2012, which translates to revenue of $64 billion to $67 billion.
Dell said that the company, which had 23,000 employees in India, was planning to add a "few thousand" people at its India operations over the next year or so.
India is Dell's largest employee base outside the United States.
Overall sales of personal computers in India rose 30 percent on a unit basis in 2010, the highest rate of growth in four years, after two years of shrinking sales, as consumer and commercial demand strengthened, research firm IDC said last month.
Hewlett-Packard regained its market leadership in the December quarter in India from Dell after two quarters, with a share of 17.3 percent. Dell fell to second spot with a share of 14.2 percent during the quarter, while Taiwan's Acer came in third with 11.5 percent, the IDC data showed.
Globally, Dell pulls in most of its revenue from selling personal computers and is waging a battle to diversify revenue. It wants to become a larger player in the data center equipment market, a provider of IT services, and gain a toehold in the fast-growing mobile space with tablets and smartphones.
Comment(s)