India Among Fastest Growing Countries In LinkedIn, Says Weiner

LinkedIn has reached 100M users worldwide, according to a post by its CEO, Jeff Weiner. LinkedIn is growing at the rate of about one million new users a week, Weiner added. This growth is not just from United States. In fact, in keeping with Facebook's user demographics, a huge chunk of its growth is from the 199 countries other than U.S. the website is present in. India is among the fastest growing countries for LinkedIn, with a 76% year-over-year growth rate above a threshold of members in 2010.
Other countries rapidly stepping up their presence on LinkedIn include Brazil, Mexico, and France. Brazil has the highest growth rate at 428%, while Mexico has registered a 178% growth. India's 76% puts it at third place, to be followed by France with a 72% increase in users.
The LinkedIn site is currently used in over 200 countries and territories around the world, with more than half of its members coming from outside of the U.S.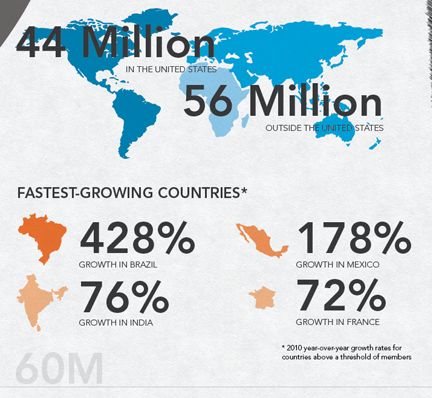 Comment(s)