HCL Launches 3 Android Tablets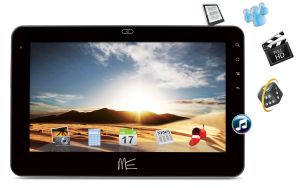 Update (March 29th ): HCL Infosystems has officially announced the launch of the tablet PCs. According to the company, HCL ME AE7 is aimed at economy users, HCL ME AM7 at mainstream users and HCL ME AP10 for those who want performance.
Currently the tablets are available in retail stores in New Delhi and the company plans to launch them across India by end of March. The HCL ME Tablets are targeted at both individual and enterprise users.
The company is stressing on customer service as a USP and is offering value added services such as onsite pickup and drop service, extension of warranty, annual maintenance coverage, express customer service and advance unit shipments. It has strengthened its support infrastructure in this context. HCL's service network covers 4000 towns in India with 500 HCL owned and manned service locations.
In an official statement, Harsh Chitale, CEO, HCL Infosystems, said, "We have put in significant amount of research to understand the Indian user's needs and have also further strengthened our backend systems to support the product through its lifecycle. We are confident that with our three decades of understanding of the Indian market and conditions, robust distribution and service support network, HCL ME Tablets will provide an Indian consumer some clear differentiators and add great value. HCL ME Tablets will also be India's first range of devices with powerful localised content and applications backed by quality customer service."
Original Post (Published on Mar 28, 2011:) HCL Infosystems has launched Android based tablet PCs in India in 7 inch and 10 inch screen size models, Androidos.in reported.
HCL has launched three Android-based tablet PCs of which two are 7-inch models - the HCL Me AE7-A1, priced at Rs 14,990, is powered by an 800 MHz ARM processor and runs Froyo (Android v.2.2). It weighs 400 grams and has a 0.3 MP camera. The HCL Me AM7-A1 has, in contrast, an inbuilt 1.3 mega pixel camera and is lighter at 300 grams and thinner too. Its online price is Rs 22,990. The devices offer GPS navigation and support Wi-Fi.
Finally, the HCL Me AP10-A1, which has a 10-inch capacitative screen and is powered by a Cortex A9, 1GHz processor, is priced at Rs 32,990. The AP10-A1 is heavier than the other two devices at 750 grams and supports 1080 pixel high definition videos, and can be slotted into the tablet category.
Users can purchase the tablets from HCL's online storefront HCLStore.in. The company also offers EMI schemes for three to six months for the tablets.
HCL's tablets compete with Dell Streak, OlivePad, Samsung's Galaxy Pad, Notion Ink's Adam and Apple's iPad.
Comment(s)